The end is almost near for True Blood. It airs its season three finale on September 12, a full description of which you can read HERE.
But is the end also near for Russell Edgington? A tremendous villain throughout the season, the King of Mississippi is played by Denis O'Hare, who spoke to E! News this week and made it sound as if his character might not fulfill his dream of vampire domination.
Asked about the concluding episode, O'Hare offered these teases:
"Sookie gets mean and hurts me very deeply. Eric gets mean and hurts me very deeply. And even Pam gets a little mean to me, although she's nice at one point, and hurts me very deeply. And I weep for joy at one point."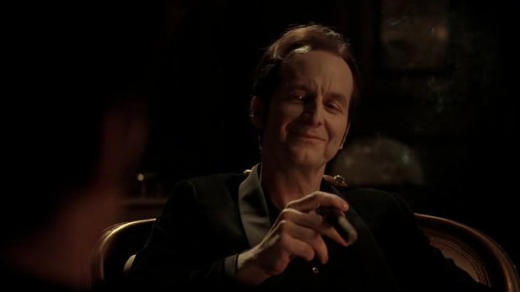 Unfortunately, the quote above is the closet O'Hare comes to revealing any actual True Blood spoilers. But check out more from the actor, including a video of this interview, below.
On his character's fate
: "I think Russell's going to end up in a place where he didn't expect."
Can Russell be killed? "I am 3,000 years old, but it can be done. The vampire rules are if you behead them, if you stake them with wood, or if you put silver on them, they're going down. The silver weakens them incredibly, the wood will actually kill them, and beheading is game over."
[video url="http://www.tvfanatic.com/videos/denis-ohare-interview/" title="Denis O'Hare Interview"][/video]
Matt Richenthal is the Editor in Chief of TV Fanatic. Follow him on Twitter and on Google+.