Upset over Gia's elimination, Wes Hayden accused pretty much everyone else of being fake. You knew he was going to get bounced as a result, but ... Team Wes!
Honestly, this guy is the only one who understands it's a game first and a relationship show second. Not even ABC appears to realize this about its confusing program.
Then again, Wes is back in Texas gettin' nibbles on his pole, and we're sitting here recapping it while the couples vie for $250,000, so who are we to talk strategy?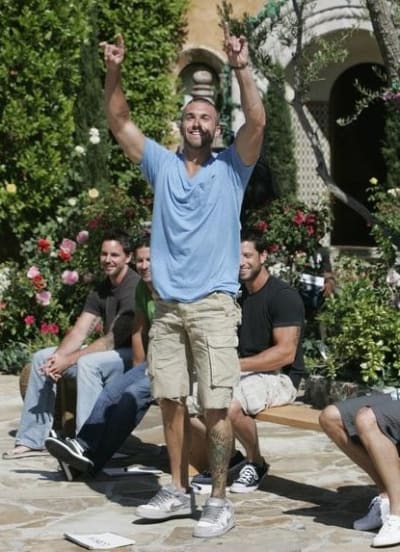 Jesse Beck wins immunity in the meanest way possible.
Things got more entertaining, albeit in a very high school way, when the Pad unveiled the most ruthless challenge ever, surveying the contestants about the others.
"Who is the meanest" or the "worst liar" or has "the worst boob job" ... feelings will be hurt. Except Chris Harrison's, that is. The host-pimp does it all straight-faced.
Basically, if you accurately guessed who was most often cited in each category by the rest of the house, you earned a point. Naturally, this led to meltdowns later.
Tenley Molzahn won for the girls, and Jesse Beck for the guys after accurately calling out Elizabeth's possibly fake rack. This is
Bachelor Pad
, ladies and gentlemen.
The silver lining was Jesse Kovacs, who decided to give up potential points by not singling out Elizabeth and hurting her feelings, but risking his own neck in turn.
On Tenley's date with Kiptyn, things got romantic and were drawn out a really, really long time, confusing us again as to whether this show is about love or what.
He got a rose, naturally, as did Peyton, who Jesse Beck took on a date. It was all going well until he burped in Peyton's face and tried to pick her nose. Seriously.
Fantasy suite ... denied!
Coming down to the wire, it seemed that Krisily, Elizabeth, Kovacs, and Wes were in jeopardy. Let the campaigns begin. To keep couples or break' em up - it's war.
Like the Big Brother Brigade, Kiptyn, Dave, and Kovacs can vote together and win 3-2 over anyone. They'll do so to save Elizabeth, who Wes and Beck want out.
Who to kick off instead, though? Here we saw some rare tension and strategy in play. Kiptyn wants Krisily out and the other two prefer Gwen. Kiptyn sways them.
The painful part is that just a few minutes earlier, Dave cut a deal with Krisily, who was legitimately on the fence, to vote off Wes instead of Jesse Kovacs. Brutal!
She was not pleased. Krisily unabashedly threw Dave, Kiptyn, and Kovacs under the bus for lying, while Wes and Jesse Beck said aloud they didn't vote her off.
The girls, as we mentioned above, voted off Wes 3-2. It's too bad, because he gets a bad rap and is actually one of the smarter, more fun people in the room.
Thoughts on last night's Bachelor Pad?
Steve Marsi is the Managing Editor of TV Fanatic. Follow him on Google+ or email him here.