Bones fans have heard plenty about Booth's new girlfriend, and now we have their first look in a photo from the sixth season premiere, "The Mastodon in the Room."
Don't expect a knock-down, drag-out catfight, though.
"We are not playing a jealous triangle," executive producer Stephen Nathan tells Entertainment Weekly. "I can tell you that categorically. This isn't high school ... It won't be two women fighting over the same man. There's no outward tension."
Regardless, Katheryn Winnick's character, a war correspondent who met Booth during his tour of duty in Afghanistan, is not likely to be welcomed by fans.
"We told her, 'You're going to be resoundingly hated at first,'" says Nathan, "'but then you'll be loved.'" Emily Deschanel adds that Brennan will be jealous, but mostly on the inside. Here's a glimpse at an awkward, yet amicable shot from the premiere ...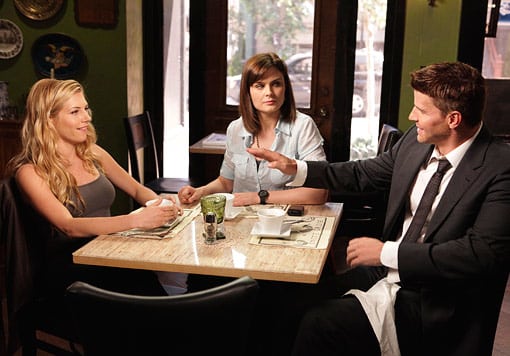 Steve Marsi is the Managing Editor of TV Fanatic. Follow him on Google+ or email him here.