Burn Notice Review: "Center of the Storm"
Jim Garner at .
Between the hurricane that hit the city on "Center of the Storm;" the disagreement Michael got himself into with Vaughn; and his attempts to stop a hitman from killing a witness, Michael truly was at the center of it all this week on Burn Notice.
As usual, he was juggling many things. In this case, that involved helping the FBI find a witness, but also help a wanna-be-hitman find the path back to the side of good. Sam made a Star Wars reference early in the episode, and the discussions between Cole and Michael had a little bit of that "use the force" feel to them.
I really liked how Michael got a true sense of Cole and helped him realize that even when he was trying to be bad, he was doing it with an eye for being responsible and really was a good guy. I really hope that Cole turns back up. I liked the character at the end and he would be a great addition to list of recurring individuals.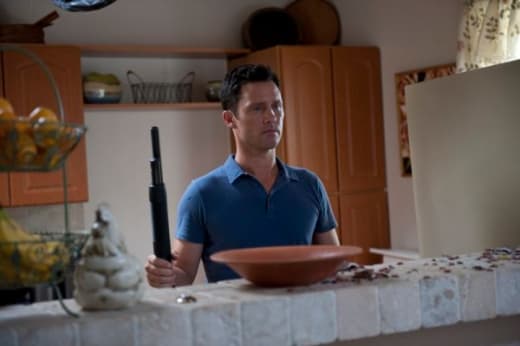 While Fiona did not have a huge role this week, her time on screen was fairly powerful. There was her meeting with Vaughn, where you could see her struggle with wanting to help Jesse, and her giving the bible to Michael and sharing that she trust him.
We got a rare glimpse past the guns and explosives to the sensitive person underneath.  Did anyone else catch that Michael intentionally held her hands for a moment when she handed him the bible? It was the perfect answer to her more tender moment.
Who thinks that Vaughn and Michael being at odds could be a very bad thing? Granted, Vaughn did finally agree to setup a meeting between Michael and Simon. But I think the power play between these two is only going to get worse. I really hope that when it all comes out that Michael figures out how to direct Jesse at Vaughn for him being burned (it was him after all who gave Michael the key-card and code that was Jesse's).
I would love to see Jesse take down Vaughn at the end. it would be such sweet revenge.
Speaking of Vaughn setting up meetings, Simon is coming back next week. While I am normally not excited about the return of a bad guy, Simon is so well played by Garret Dillahunt that I am really excited to see him again. Dillahunt has been in shows like
Deadwood
,
Terminator: The Sarah Connor Chronicle
s, and
John from Cincinnati
.
He is one of my favorite people to see play a bad guy. From Cromartie on TSCC to this role, he always brings that little something extra to a villain.
What did you think of this week's episode? Should Fiona have given the book to Vaughn? Do you think Michael and Vaughn are alike, as Fiona said? Check out a few Burn Notice quotes from the hour now!
Jim G. is a TV Fanatic Staff Writer. Follow him on Twitter.