Seinfeld's fourth season picked up directly after the third with Kramer still in LA and Jerry and George going out there in a two part premiere to retrieve their friend.  From there, the primary story arc of season four focused on Jerry and George's pitching of a pilot to NBC.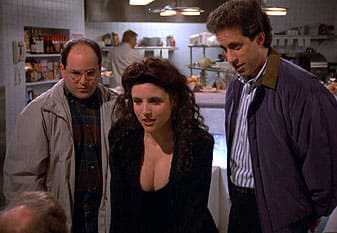 Other memorable season four episodes that we can't help but think of when we think of Seinfeld included:
So if you're ready to relive those great episodes and so many more, go ahead and check out our complete collection season four Seinfeld quotes or browse through our favorites below:
Jerry: (seeing George's big pile of luggage) It's a three day trip. Who are you, Diana Ross?
George: I dress based on mood.
Jerry: But you essentially always wear the same thing.
George: Seemingly. But, within that basic framework, there are a number of subtle variations, visible only to the trained observer, that reveal the many moods, the many shades, of George Costanza.
Jerry: And what is this?
George: This is morning mist. | permalink
Kramer: You know, things are going pretty well for me here. I met a girl.
Jerry: Kramer, she was murdered!
Kramer: Yeah, well I wasn't looking for a long term relationship. I was on TV.
George: As a suspect in a serial killing.
Kramer: Ok, yeah, you guys got to put a negative spin on everything. | permalink
Telemarketer: Hi, would you be interested in switching over to TMI long distance service.
Jerry: Oh, gee, I can't talk right now. Why don't you give me your home number and I'll call you later.
Telemarketer: Uh, I'm sorry we're not allowed to do that.
Jerry: Oh, I guess you don't want people calling you at home.
Telemarketer: No.
Jerry: Well now you know how I feel. | permalink
George: I'm sorry. I can't live knowing that Ted Danson makes that much more than me. Who's he?
Jerry: He's somebody!
George: What about me?
Jerry: You're nobody.
George: Why him? Why not me?
Jerry: He's good, you're not.
George: I'm better than him!
Jerry: You're worse! Much much worse. | permalink
Kramer: Have we been intimate?
Elaine: Yeah, yeah we've been intimate.
Kramer: And how often do we do it?
Elaine: Kramer! How is that important? Honestly, do you really think he's going to ask you that?
Kramer: Elaine, he's a psychiatrist. They're interested in stuff like that.
Elaine: All right, all right. We do it, uh five times a week. Okay?
Kramer: Ooooh baby! | permalink
Bubble Boy: Moors!!
George: Moops!! | permalink
Jerry: She's a virgin. She just told me.
Elaine: I didn't know.
Jerry: Well, it's not like spotting a toupee!
Elaine: Do you think I should say something? Should I apologize? Was I being anti-virgin? | permalink
George: What are you doing tonight?
Jerry: Date with Marla.
George: Oh, the virgin? Any progress there, what's the latest?
Jerry: Well, I've got my troops amassed along the border. I'm just waiting for someone to give me the go-ahead. | permalink
Tia: This ice cream is really nice.
Jerry: Oh you know what, they've put the fudge at the bottom of the ice cream. That way you can control your fudge distribution as you eat it.
Tia: I never knew a man who knew so much about nothing.
Jerry: Thank you. | permalink
Elaine: Let me tell you, I didn't intentionally expose myself, but, now, I wish I had. For it is not me, but you who have been exposed, for I have seen the nipple on your soul! | permalink
George: Kramer goes to a Fantasy camp? His whole life is a fantasy camp! People should plunk down $2,000 to live like him for a week. Do nothing, fall ass backwards in the money, mooch food off your neighbors and have sex without dating; now that's a fantasy camp. | permalink
Jerry: Looking at cleavage is like looking at the sun, you don't stare at it. It's too risky! You get a sense of it and then you look away. | permalink
George: Two tickets to "Guys And Dolls"! I'm gonna go with you!
Jerry: "Guys And Dolls"? Isn't that a lavish, Broadway musical?
George: It's "Guys And Dolls," not "Guys And Guys." | permalink
George: (trying to convince a reporter that he's not gay) Look, you wanna have sex right now? Do want to have sex with me right now? Let's go! C'mon, let's go baby! C'mon! | permalink
Kramer: Who's gonna turn down a Junior Mint? It's chocolate, it's peppermint -it's delicious!
Jerry: That's true.
Kramer: It's very refreshing! | permalink
Jerry: Can't you at least die with a little dignity?
George: No, I can't. I can't die with dignity. I have no dignity. I want to be the one person who doesn't die with dignity. I live my whole life in shame. Why should I die with dignity? | permalink
Jerry: Did you ever notice a lot of butlers are named Jeeves? I think when you name a baby Jeeves; you've pretty much mapped out his future. Not much chance he's gonna be a hitman. "Terribly sorry, sir, but I'm going to have to whack you." | permalink
Eric Hochberger is the programmer of TV Fanatic, so please forgive his mediocre writing. His programming is far better. Follow him on Twitter and/or email him. Just don't request threaded comments. They're coming.