Season three of Seinfeld definitely had some of the moments we refer back to the most.  Whether it was George concerned that "it" moved during a massage from a male, going to the bathroom in the parking garage, the invention of Vandelay Industries, or the theory of the second spitter, there was some memorable moments.
However, we have to think of season three, there will always be one image that comes to mind: "The Kramer."  The infamous portrait of Kramer that made its way into pop culture and college dorm rooms everywhere.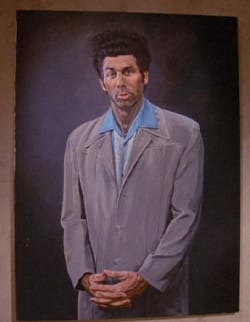 To celebrate this amazing show, we put together our favorite Seinfeld quotes from the first full 23 episode season.  So go ahead and browse and vote on your favorites:
George: I think it moved. | permalink
George: I've driven women to lesbianism before but never to a mental institution. | permalink
Kramer: (on the loney librarian) She needs a little tenderness...she needs a little understanding...she needs a little Kramer.
Jerry: Then she'll need a little penicillin. | permalink
Jerry: The problem with the mall garage is that everything looks the same. They try to differeriate between levels. They put up different colors, different numbers, different letters. What they need to do is name the levels, like, "Your mother's a whore." You would remember that. | permalink
Jerry: Go ahead, you're taking the IQ test.
George: Yeah, and she's gonna find out I'm a moron. You know, people think I'm smart, but I'm not smart.
Jerry: Who thinks you're smart? | permalink
Jerry: It's like my brain is facing my penis in a chess game. And I'm letting him win.
George: You're not letting him win. He wins till you're forty.
Jerry: Then what?
George: He still wins but it's not a blowout. | permalink
George: I've always been attracted to cleaning women. Cleaning women, chambermaids
Jerry: Yeah, chambermaids, I'm attracted to them too.
George: Why is that?
Jerry: It's a woman in your room. | permalink
Jerry: I don't have a good apartment for an intervention. The furniture is very non-confrontational. | permalink
Elaine: Hey, have you ever fasted?
Jerry: Well, once I didn't have dinner until, like nine o'clock. That was pretty rough. | permalink
Jerry: I'm Vandelay Industries?
George: Right.
Jerry: And what is that?
George: You're in latex.
Jerry: Latex? And what do I do with latex?
George: You manufacture it. | permalink
George: I really think it looks good.
Elaine: Ten bucks, how can you go wrong?
George: All bald people look good in hats.
Elaine: You should have lived in the '20s and '30s, you know men wore hats all the time then.
George: What a bald paradise that must have been. | permalink
Kramer: I was clinging to those keys, man, like a branch on the banks of a raging river, and now I have let go and I'm free to go with the current, to float, and I thank you. | permalink
Kramer: Having the keys to Jerry's apartment - that kept me in a fantasy world. Every time I went over to his house it was like a vacation: better food, better view, better TV, cleaner, oh, much cleaner. That became my reality. I ignored the squalor in my own life because I'm looking at life, you see, through Jerry's eyes. I was living in the twilight, living in the shadows, living in the darkness like you.
George: Me?!
Kramer: Oh, I can barely see you, George.
George: Stop it Kramer, you're freakin' me out. | permalink
Eric Hochberger is the programmer of TV Fanatic, so please forgive his mediocre writing. His programming is far better. Follow him on Twitter and/or email him. Just don't request threaded comments. They're coming.