A TV Fanatic staff favorite sitcom, How I Met Your Mother, was kind of weak last season. There was little story line direction, less heart, and despite Neil Patrick Harris' Emmy-worthy efforts, not enough humor to make up for those significant voids.
Co-creators Carter Bays and Craig Thomas got the message at least.
In recent interviews promoting the upcoming sixth season, the two promised not only a game-changing premiere, but a triumphant return to the show's heart and soul.
"It's going to be a newsworthy season for us," Bays says. "We were happy with it as we were doing it, but the headline is, Season Five of our show was very sitcommy."
"We feel that way. We set out to say, 'What if we do a show where every episode you hit the reset button at the end? Do it like a box of chocolates; every one is a little morsel.' And we had fun doing that, but that's not the show we've wanted to do."
"Our headline for this year is getting back into the saga of the show."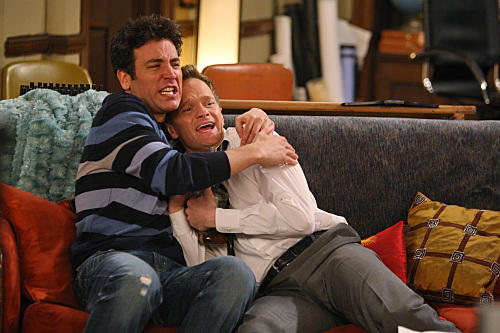 Basically our reaction to Season Five of How I Met Your Mother.
Thank goodness. Adds Thomas: "I think a certain kind of fan of the show felt last season was less emotionally interesting. Less interesting in the larger arc of who's the mother, but also less interesting in the sense of moving forward in these characters lives."
"In the first couple, two or three seasons of How I Met Your Mother, crazy stuff happened. You saw Marshall and Lily get engaged, Ted decides to find The One, Marshall and Lily want to break up, they are estranged, get back together, get married."
"I feel like we earned fans by exploring a lot of rites of passage in people's lives, and last year we did a lot less of that. We want to get the message out there that we're kind of bringing it back to being a little more emotionally invested in these character's lives."
Follow this link for much more from Bays and Thomas ...
Steve Marsi is the Managing Editor of TV Fanatic. Follow him on Google+ or email him here.