This week, Entourage continued to be entertaining and laid the cameos a little extra thick for us.  This week introduced the recurring Sasha Grey (#1), the porn star, of course, playing herself.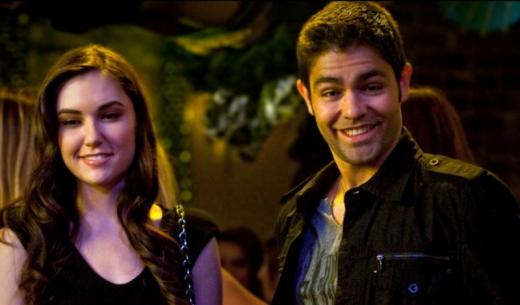 Sasha appears to be down-to-Earth and will be joining the cast as Vinnie's girlfriend and possibly messing up his career as she already started by just showing her face in a meeting with Stan Lee (#2).
Sasha, while not the best actress in the world, still seems to blend pretty well into the gang, making penis pancakes and cracking the jokes the guys.  Plus, she's fairly pleasing on the eye and seems pretty easy to convince to appear naked on camera.
Speaking of naked on the camera, did you guys get a load of Mrs. Ari in her lingerie?  Easily gave this episode a solid full star bonus to our review.  Does that woman ever age?  Oh and Ari tried to win back Jessica Simpson (#3), Mike Tyson (#4) and Aaron Sorkin (#5) from Lizzie.
Subtracting from that bonus?  The painfully awkward scene between E and Sloan experimenting in bed from which "Bottoms Up" got its name.  Sure it was realistic, but that doesn't mean we need to watch it as the third wheel.  Awkward.
Bob Saget (#6) did a quick Full House substitution for Stamos as he broke the news he's stealing Drama's sitcom role.  Aww.  Drama, who never does anything stupid, returns to his classic self and shows up at Saget's with a baseball bat.  Can't wait to see the fall out next week.
Turtle, who just finished making out with Alex all night long, sped his plot line along by asking E if Vinnie could be the Aunt Jamima to his tequila.  E, for obvious reasons, said no, and Turtle snuck behind his back and got Vinnie on board.  That was quick.
Overall, the six cameos turned out to be pretty fun and no one stuck out in that painful cameo for no reason way they love to do on this show.  Two good episodes in a row?  We're hoping this season can keep it up!
Our favorite Entourage quotes from the half hour are after the jump.
Drama: Are you kidding me? Vagina in my third favorite hole. | permalink
Ari: That's what marriage is for: so you can bang out your anger. | permalink
Ari: And if Bobby doesn't listen to you, you bite his ear off. | permalink
Drama: It's not called show friends. It's called show business! | permalink
Eric Hochberger is the programmer of TV Fanatic, so please forgive his mediocre writing. His programming is far better. Follow him on Twitter and/or email him. Just don't request threaded comments. They're coming.