Turns out nothing wakes up a half-naked actor from his poolside like some cocaine.  During this week's aptly-named "Tequila and Coke," Vince decided to dabble in the white powder.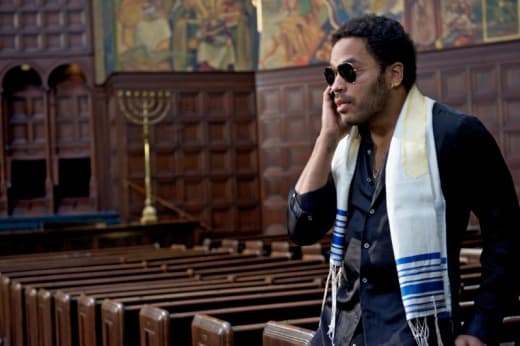 As much as we're already sick of seeing Vince's career tank after Medellin, it is kind of refreshing to see Vince just tank as a human being. 
At least Vince's benders make him more interesting than regular Vinnie.  Plus, hey cocaine even made the guy make a joke!  "My fingers are sealed."  Hey, it's a start for the guy.  Bring on the coke and possibly the laughs one day!
Ari, meanwhile, finally saw all his running story lines of the NFL franchise and Lizzie's blackmail come to fruition in one fizzled out moment.  Apparently Lizzie did not leak the tapes, but Deadline ran the story anyway, thus sullying this family man's good name.  Crash and burn.  Come up with something new for our man.   At least it was nice to see Jeremy Piven show off some emotions beyond merely yelling.
Turtle and Alex continue to drag on their uneventful tequila business.  This week's huge drama?  Turtle sold too many cases to the de facto liquor store.  Two questions.  One: is LA really that silly that such a store exists?  Two: What kind of business is this where they complain when an employee sells their product?
Turtle's upcoming meeting with the boss better bring something interesting to the story, because selling too much of the product is not acceptable drama and watching Ramirez try to act is certainly not funny enough for a dramedy.
Oh and Billy Walsh introduced us to the hilarious cartoon known as Johnny's Bananas.  Sign us up, we'd watch it and review the pilot for TV Fanatic.
In typical Entourage fashion this season, they've been laying the cameos on extra thick.  This week we got Chris Bosh, Lenny Kravitz, Mark Wahlberg, and P. Diddy as themselves.  Plus, Carrie Fisher as a reporter for extra points.
We're going to award the "Best Cameo of the Week" to Kravitz for playing up his Jewish side and the most "Shameless Cameo of the Week" to Bosh.  Sure it was timely to bring the guy on, but seriously, he just happened to show up at Vince's after party that was announced at a club?  Irrelevant and silly.  At the least the other guys kind of fell into stories. 
Yes, we realize we just started of "of the Week" awards and it will likely be the only week we give them out.
In addition to just countless naked women this week, we got to see some Sloane side boob.  How fake, yet beautiful did those look?  Full extra star bonus awarded to the show.  You could have had an extra star if you showed the other side for our first ever Entourage 5 star review.  So close guys.
Now after you sat through our long-winded review about a show than runs for less than a half hour, we'll leave you with some fun Entourage quotes:
Ari: Deadline Hollywood would run a story about me having a loose stool, much less tapes. | permalink
Ari: I'll give her a scoop.
Barbara: Oh you got one?
Ari: I'll tell her you blew Mickey Rooney and gargled with it. | permalink
Turtle: I sent ten to James Cameron.
Alex: Can you call him?
Turtle: No, he's The Terminator. | permalink
Dana: I'm pushing 40, I don't have a man. I want a baby... with your sperm. | permalink
Ari [to Dana]: If I ever cheat on my wife, it's you I'm f**king. | permalink
Eric Hochberger is the programmer of TV Fanatic, so please forgive his mediocre writing. His programming is far better. Follow him on Twitter and/or email him. Just don't request threaded comments. They're coming.