Exclusive Interview: Jessica Lowndes on 90210 Season Three, New Album and More
Gabrielle Compolongo at .
On 90210, season two concluded with Adrianna heading off for the summer on tour.
In real life, actress Jessica Lowndes will be releasing her own album this fall. It's a case of reality meeting fiction, and it's one of the topics Lowndes spoke to TV Fanatic about this week. Excerpts from the interview are below...
You were recording during the show's break. What can we expect from that?
It's been incredible. During hiatus I started putting together an album, which is fantastic. I got to record a lot in LA and London and I teamed up with this pop artist from the UK called Ironik. We have a single coming out on October 25 in London, we just shot the music video for that.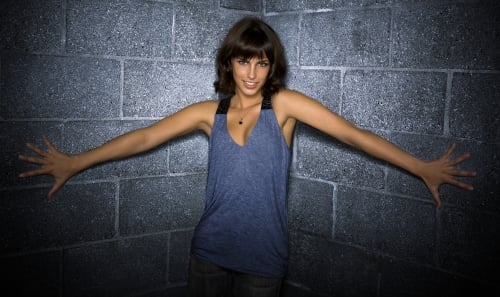 Where is Adrianna when the show comes back?
My character is no longer in high school, she's now touring and doing the rock star thing and is definitely a lot stronger this season. I've been singing since I was three; it's the one thing in Adrianna's life that I can totally relate to.
Give us some 90210 spoilers for your character this season.
It's a dream role for any actress. I've done the drug stuff, the pregnancy thing, the love triangle, the lesbian affair and now the music. Adrianna's addicted to the drama, and even when she's in it, she says she doesn't want it. If things go smoothly she gets really bored and craves that next hit of exciting or drama. It's really interesting and its been fun because I feel like she's growing up.
I've been able to record for the show, so there's going to be a lot more music this season. We start filming episode six next week, and it's the craziest episode ever. I'm really excited. It's only been a summer since you've seen her last, so her lifestyles changed, she's still the same person and she's trying to stay as normal as possible but her life is going at a different rate and speed. She had to dropout out of high school to pursue singing, and managing having a boyfriend in Navid.
She makes a really bad decision at some point, which is the worst thing ever and she's stuck and cant get out of it. Something like that is definitely going to change her. You're going to see how fame can really go to someones head.
Does her relationship with Navid stay solid while she's gone?
At the end of season two we're back together and at the beginning of season three we're still together. That's all I'm allowed to say.
Had you originally auditioned for the role of Adrianna?
I did, but I was an afterthought. They had cast everyone months before. My character was just supposed to be the singer of the school musical, and maybe have a drug addiction, but they weren't sure. I had to go in and just sing "Mama Who Bore Me," and I was originally told that it wasn't my part because they wanted a blonde, or a different look. It's hard to hear because I was like, "I can die my hair," but it's out of their control and it happens sometimes.
A month later I had tried put it out of my mind, and I got a call that they had listened to my demo CD and changed their mind. So they asked if I could chop all of my hair off and be on set the next day to film episode one. It was this surreal thing, and I didn't even have a chance to process it. I didn't know the fate of my character. Originally my character died from an overdose on episode seven, and I thought that was it. I got offered a series regular role the day after. It's a really fun role. Her hair grows as her character grows, and it's this symbolism thing that not a lot of people know about. It was a bold haircut, and it was a bold character that joined.
What else can you tell us about the season?
We have some new writers this season that have jumped aboard, and it's written in a real and honest way. It's still really juicy, but it's not too over the top which I love. It's things that actually go on. They've been doing a lot of research, talking to high school students to really make it as believable as possible. I love that you're seeing more of California, and natural light... There's an earthquake in episode one. There are love triangles, there is a gay character, and there's going to be someone really tormented by that and angry by that. You see his character deal with that, he goes through everything that someone in high school would go through with that. There are twists everywhere, it's really fun.
Any funny moments on set?
Last season, Michael [Steger] and I were shooting the scene at my party where they are passing the torch and Javier came between us and just popped up. We couldn't stop laughing every time he popped up. That took us a while to actually get. Last season there was a dream sequence of Adrianna dreaming of Navid with mousse and all of the sudden he turns into Teddy. There was a lot of chocolate mousse, and what people don't understand is that a moment on TV is actually four hours or five hours. We had to keep eating chocolate mousse at every angle, over and over. We were so hyper. I just wanted cupcakes. I have a problem when it comes to that.
Anything else in the works for you?
I have a film coming out that was just bought by Anchor Bay called Altitude. I play a pilot. I got to learn how to fly a plane. That's coming out this Fall. When I'm not filming, I'm in the recording studio. I'm hoping to have my own single out by the end of this year.