If the first few seasons of Mad Men were about the time period, this season is indicative of how the times, they are a changin'.
The most recent episode, "The Rejected," continues that theme while showcasing Pete and Peggy, and taking what may be a final look at Don's interesting relationship with Allison.
Let's begin with the creative mastermind.
After last week's episode took a break from both the day to day of Sterling Cooper Draper Pryce, and any drama between Don and Allison, it all started right back up again this week. While Mr. Draper was dealing with the agency business of figuring out the angle for the Pond's Cold Cream account, he also had a crying secretary to deal with.
I'm assuming that Don hadn't made any more advances towards Allison since the deed was done during Christmas, but during last week's ep they seemed to be a lot more comfortable with each other (some were even of the opinion that they were being flirtatious).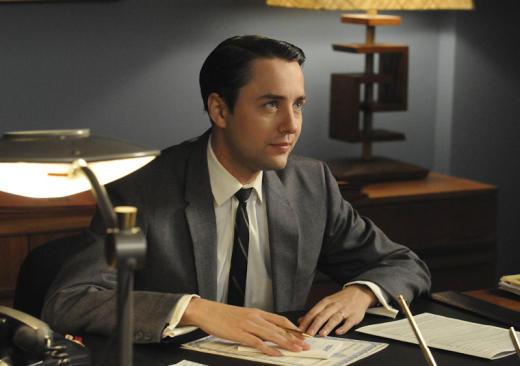 The same can't be said during this hour as Allison bawled her eyes out, blew up at Don, and quit in such a way that would make George Costanza proud.
In the young girl session for Pond's Cold Cream, in which they are encouraged to open up, Allison utters one sentence, "It's worse when they notice sometimes." She then looks through the mirror, with a glare I would never dream on anyone, knowing Don is right on the other side.
The next time they cut to Allison, she is bawling her eyes out and storming out of the round table discussion.
So I guess it's obvious that Allison isn't taking the Don thing very well. But what I wasn't expecting is for her to spill the whole situation to Peggy moments later. When Peggy goes to console her, Allison basically tells her all about it, thinking that Peggy went through the same situation when she was Don's secretary. Peggy shot down that notion immediately as she continues to be the strongest woman on this show.
When Don finally makes it back to his office, we are all witnesses to a fantastic disaster of an exit by Allison. She finally confronts Don with these feelings that she's obviously been holding in since the incident.
She gets Don to admit that their transgression did actually happen, before explaining that it would be best if she moved on to something else. Don doesn't think it's necessary to leave, but agrees to give her a great recommendation.
Of course his idea of a letter of rec is to let her type up whatever she wants and have him sign it.
Now, having gone through this exact situation before (just the letter of recommendation part), I can absolutely understand Allison's need to chuck something against the wall. She has done a great job for Don, the least he can do after ruining everything for her is write down some nice things about her on a piece of paper.
The fact that he can't get himself to do that helps to justify her description of him as "not a good person."
Let's transition to Peggy with a couple of small moments between her and Don this week.  First there was the time that Peggy tried on the wedding ring she was holding and Don caught her.  This is such a complicated girl.
Does she want to be married? Was she just seeing how it felt to wear it? Does she want to be married to her current joke of a boyfriend?
Then there was Peggy spying on Don through the window above the wall that separates their respective offices. She had just been enlightened by Allison on some juicy gossip, and is now trying to put all the pieces together. I'm interested to see what part Peggy might play in Don's resurgence back to being a respectable human being.
Peggy's other adventure this week was with the woman she met in the elevator, Joyce. She loves to try new experiences, and as a young person in these changing times, it makes sense. When Joyce comes to SCDP to invite Peggy to a party downtown, the receptionist remarks, "She's kind of pretentious." 
Peggy just states, "I know," smiles, and walks away.
Could she be more different than the normal woman of the late 50s everyone expects her to be?
And then there is the young partner, Pete Campbell. Roger and Lane dropped a pretty big bomb on him early in the episode, in that Clearasil had to go because it didn't bring in as much money as Pond's Cold Cream. So Pete has to go let his father in law down gently that SCDP will not be working with him anymore.
The problem is that when Pete gets to the bar, his father in law has some news to spill of his own. Trudy is pregnant! 
The news is so overwhelming that Pete is too "bowled over" to tell his father in the law the bad news about Clearasil.
While waiting to catch his father in law at a better time, Pete heads to lunch with Harry and ex-co-worker, Ken Cosgrove. After bonding on the fact that the grass is always greener at the other ad agency, and giving the news that Trudy is "with child," Ken gives Pete some valuable information.
Cosgrove's new agency is in the market for Mountain Dew so that they can try and land Pepsi. This translates to Pete as, let's keep Clearasil, as long as we can get the entire Vick's Chemical account. Good work, Pete, except now your father in law thinks you are a "son of a b*tch."
Finally, we get to the interaction between Peggy and Pete. Trudy being pregnant adds another confusing aspect to Peggy's life, and to Pete's relationship with Peggy for that matter.
She congratulates Pete and wishes him all the best, but we all know that was quite the front. After getting pregnant by Pete way back in the day, then giving the baby up, Peggy's head has to be swirling around like crazy right now.
I don't know what was more compelling, the final stare down between Pete and Peggy between the glass doors, or the contrast between the two groups they were with. Pete was with a bunch of older men in dark suits, while Peggy was in a group of younger kids (mostly women) in colorful clothes. 
It was truly the past and the future right in front of our eyes. What's next for the men and ladies of Sterling Cooper Draper Pryce?  We shall see.
Some Mad Men quotes from last night ...
Cosgrove: My mother was a nurse at the state hospital in Vermont, and that was the last time I saw so many retarded people in one building. | permalink
Freddy: Can you imagine? Your financial future is in the hands of a room full of 22 year old girls.
Don: Not mine. | permalink
Allison: It's worse when they notice sometimes. | permalink
Receptionist: She's kind of pretentious.
Peggy: I know. | permalink
Peggy: I have a boyfriend.
Joyce: He doesn't own your vagina.
Peggy: No, but he's renting it. | permalink
Trudy: How would you know what this feels like? | permalink
Dan Forcella is a TV Fanatic Staff Writer. Follow him on Twitter.