Having watched the pilot episode of ABC's No Ordinary Family, I can say this: the best part of the show is also the most distracting.
No new series this fall (or in recent memory) boasts such a strong, familiar cast. But that's actually a problem throughout the first hour, as viewers aren't yet affiliated enough with the characters to recognize the actors as anyone except who they previously played.
In almost every scene, I couldn't help but think: Hey, Vic Mackey from The Shield is kissing Rita from Dexter! That's Lizzie from Entourage! Go back to selling pot, Conrad from Weeds!
Over the course of watching No Ordinary Family, we'll start to connect stars Michael Chiklis, Julie Benz, Autumn Reeser and Romany Malco with their new identities. Being a huge fan of each, I'm excited for this to happen - but, for one episode at least, it's a strange feeling to see so many well-known faces in one place.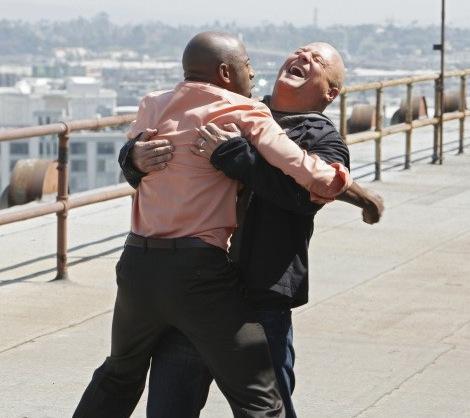 The premise of No Ordinary Family is simple: a father, mother and their two kids acquire super-human abilities as the result of a plane crash. The series wastes no time setting up this development, as we meet the Powells in their kitchen; watch them quickly banter about a trip to Brazil; and then are quickly transported on to the doomed flight.
For obvious reasons, the show has been compared to The Incredibles and Heroes, but there's a noticeable difference from the latter: tone.
Almost as soon as characters on
Heroes
discovered their powers, these traits became a burden. I don't think Peter Petrelli smiled once in the final three seasons of that show. The opposite couldn't be more true in this case.
The most fun part of the series premiere is watching Chiklis' Jim (a police department sketch artist) work with Malco's George (a district attorney) to determine just what kind of abilities he possesses. As pictured above, Jim takes pure joy in learning that he finally has the chance to be special and help people, issues that have plagued him in his marriage over the past few years.
That's because he's watched as wife Stephanie (Benz) has reached the top of her field as a research scientist, while Jim's career as an artist never took off. Stephanie, meanwhile, can't find enough time in her day to be the ideal wife, mother and employee - until she discovers her power of super speed.
Like her husband, Stephanie is thrilled with the ability. It enables her to race from the lab to her living room, where she can help dim-witted son J.J. with his homework.
Eventually, Stephanie and Jim's children - J.J. and Daphne - also experience changes as a result of the plane crash, but the show remains grounded in real life issues. For example, upon first learning she can pull a Sookie Stackhouse (read people's minds), Daphne complains that high school is already hard enough without adding this trait to the equation.
It will be interesting to see how the show balances typical teenage dilemmas (Daphne also doesn't feel ready for sex) with such a supernatural concept. Will the family fight crime together? Use their abilities in more everyday situations? A combination of both?
Jim is clearly leaning toward the crime-fighting angle, as a scene late in the premiere actually caused me to gasp out loud. I was thoroughly surprised by a development I won't spoil here.
Overall, this is a light-hearted drama heavy on both light and heart. It almost needs to take itself a bit more seriously in order for the viewer to feel invested; while it borders on cheesy every time Jim talks about his family (don't play a drinking game involving that word in particular; you'll be passed out before the second commercial break).
Jim and Stephanie also do their talking directly to the camera at times, a gimmick I hope goes away soon.
But No Ordinary Family definitely feels different than anything else on television and, with a cast like this, is well worth a few viewings before deciding whether or not to give it Series Recording status on your DVR.
Matt Richenthal is the Editor in Chief of TV Fanatic. Follow him on Twitter and on Google+.