Following season three's penultimate episode of True Blood, most fans are likely wondering: Will Eric survive?
That's certainly on my mind, but the first question I had as soon as "Fresh Blood" concluded was more along the lines of: How will this all come together?!?
As has been the case all season long, the main storyline involving Bill, Eric, Sookie and Russell was gripping (and sweet/romantic; can you imagine Bill as a third grade teacher?) - but other developments felt random and unconnected, making me curious if they'll all make more sense on the September 12 finale.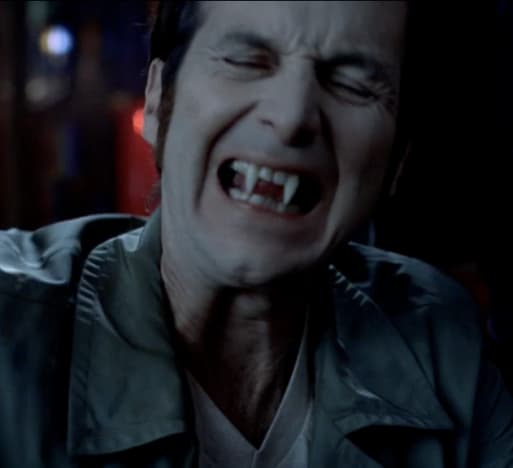 Yes, September 12. We need to wait an extra week for this season's final pay-off, leaving us with a handful of issues to ponder until then. To wit:
Is Hoyt's mother evil or practical? You can't really blame a woman for wanting her son to end up with a human over a vampire.. but Mrs. Fortenberry has the look and sound of someone who wasn't just hoping Hoyt would choose Summer. She seems intent on making this happen and might resort to measures that include more than Summer's best underwear.
Meanwhile, after just one scene with his mother - and a hot/scary scene between Hoyt and Jessica - I'm more into this storyline than anything involving Tara, Sam and/or Jason all season.
What steps will Arlene take next?
So much for Wiccan abortions. Far too much time was dedicated to this secondary plot last night for it to not play some significant role on the season finale. But I can't figure out how. Anyone got any ideas?
"Let's f-ck," and die? If Tara and Sam do get blown up by Tommy, hey, at least their final actions on Earth will have been enjoyable. It's doubtful this will actually be their fate, of course, although I'll be honest: True Blood could benefit from trimming some of its fat. (** Readers now say Tommy was going after Sam's safe, not his life. I may have misinterpreted this scene by thinking the box on the table was an explosive.)
No, I'm seen you mostly naked Rutina Wesley and I'm not calling you fat. But the character of Tara has grown a bit stale (and moist, has she gone a single episode without crying?!?) and it typically helps a series to surprise its viewers with a major death. Would anyone out there really miss Tara or Sam?
Will Jason's high school records be broken by a quarterback on V?!? Just kidding. Even as a sports fan who can appreciate the performance enhancing drugs aspect of this storyline, I don't care.
What will happen to Eric and Sookie? This is the main question and concern, of course. Kudos to the show for referencing Godric, it's always refreshing when the past come back around. The death of his maker wasn't just a major moment in Eric's life, but also in how Sookie views him.
This became especially apt later on when Eric offered himself to the sun in the same way as his favorite vampire of all-time. It will be a noble, selfless deed if Eric does sacrifice himself to kill Russell and pretty much save the world... but it's highly improbable this will be the final result.
Nevertheless, might Eric's actions be enough to finally push Sookie in his direction for good? In that conversation with Bill in the car, she was more open than ever about her attraction for the sexy sheriff.
Consider this questions and toss out whatever else is on your mind as we head into the third season finale. Below, we leave you with a few True Blood quotes from the episode:
Summer: I opened up my heart to him. I showed him my best underwear. There's nothing else I can do. | permalink
Sookie: What would we be if we were normal? I can't even picture it. | permalink
Russell: Soon, there will be anarchy - and, then, there will be me. | permalink
Jason: Everyone in this town ain't what they're supposed to be. So... you turn into a panther. I love you. | permalink
Eric [to Pam]: You know I love you more when you're cold and heartless. | permalink
Eric [to Russell]: Be brave. We'll die together. | permalink
Matt Richenthal is the Editor in Chief of TV Fanatic. Follow him on Twitter and on Google+.