I am honored to be filling in for M. L. House again this week. Thank you to everyone who sent me a message telling me I did a great job filling in last week, I am truly honored.
Let's get to last night's episode, "Hitting the Ground." It started with Sookie letting out a scream and pretty much ended with her letting out a scream, and from beginning scream to ending scream it was another great episode that seemed to generate more questions than it answered.
Sookie has no identifiable blood type. I am sure I am not alone when I said "Whaaaaaat?" after the doctor said they could not indentify Sookie's blood type. I am glad that someone in the show asked if it was caused by all the vampire blood she had, as that was my first question as well. We can add this to the check list of reading minds and light coming from her hands for mysteries about Sookie. We can only guess it may have something to do with what her cousin Hadley told Eric to save herself.
Who or what is Claudine? So Claudine seems to know a lot about Sookie. I gathered that the cryptic comment about "the water didn't kill them" was a reference to her parents drowning in a flood when their car was washed off the road. I have to think that Claudine is real (in some reality) as she clearly wanted to protect Sookie. However, this really makes me wonder about "taking her light" and "the darkness". Was night time the darkness or Bill?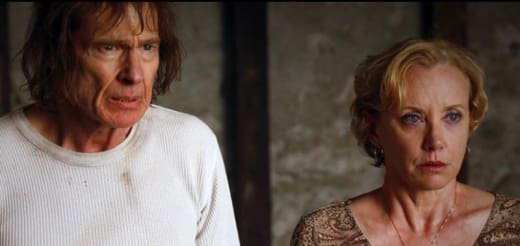 Sookie kept her promise. Never let it be said that Sookie doesn't keep her promises. She promised to kill Lorena and even though she had help, she did stake her through the heart and gave her a true death.  I did love the dialog between her and Tara about what is left of a vampire when they are dead. I have wondered for over two seasons why their cloths turn to goop as well as their body. Shouldn't there have been a bloody dress lying on Bill after Lorena died?
Bill is free from Lorena. If you watched the post mortem after the episode they did a montage on Bill and Lorena who were together on and off from 1865 to 2010. Now that Bill is free from Lorena, I wonder if he knows what to do with himself. I have to imagine as evil and vile as she was, she was at least something that was familiar to him and she had been there since he first started his new life. I have to think that after 145 years, even if you hate her at least you know her. I suspect Bill may need therapy to truly be rid of her.
Match made in Hell
. Queen of Louisiana and the King of Mississippi married at last. We already know this is a marriage of compromises and deals. I am still trying to figure out exactly what Russell is getting out of being married to Sophie-Anne. I know he is paying her taxes, but what is he getting in return? I also wonder how Talbot is going to take to him marrying someone else when they have been together for so long. I don't even want to imagine that fight.
Ding Dong the Magister is dead. Raise your hand if you are happy that the Magister is gone. He was a vile, sadistic, evil, evil, creature and no matter what happens I am glad he is gone and Pam is safe. I do have to wonder how this is going to play out for Russell. I can't imagine "the authority" that the Magister worked for will be very pleased that Russell killed him. I think the question is with Sophie-Anne and Russell together, will they be strong enough to take action for it.
Lastly, a few thoughts on Alcide and how much trouble he is going to be in for killing another wolf. Granted Coot was strung out on V and worked for a vampire. But, I think he is going to be in serious trouble; first from his pack leader and then even more so from Debbie. He not only shot Debbie's new lover; but, locked her in the shed with the body for who knows how long. I think she was telling the truth when she said she was going to hunt him. I hope he sleeps with an eye open.
What did you think of this episode? Will you miss Lorena or the Magister? Do you think Claudine is real? Do you think Alcide had any other option than to shoot Coot?
Comment below with your opinions, we always want to know what you think. Below are some True Blood quotes from last night's episode ...
Tara: Sookie, let's go, he is dead!
Sookie: No he's not. This (holds up goop) is what is left when a vampire dies. | permalink
Pam: You can dish it out, but you sure can't take it, can you Magister?
Eric: Let's see how this plays out Pam, you can always taunt later. | permalink
Sam: You're just a scared man in saggy underpants with no discernible life skills. | permalink
Summer: I really like you Hoyt and I really want you to taste my biscuits. | permalink
Jason: I didn't think I was smart enough to get depressed. | permalink
Summer: I'm just kidding; I'm not a vampire like your last girlfriend.
Hoyt: Girlfriend? | permalink
Jim G. is a TV Fanatic Staff Writer. Follow him on Twitter.