Between an emotional Eric Northman, a nephew for Sookie and the scariest broadcast news segment on record, last night's episode of True Blood gave us plenty to discuss.
That's exactly what we do in the latest edition of the TV Fanatic Round Table, as we encourage readers to chime in on the topics below...
What was your favorite True Blood quote from the episode?
M.L. House: Franklin's final words to Tara: "I'll mourn you, Tara. I'll mourn you to my very marrow." Just call me a sucker for true love!
The Barnacle: Pretty much everything between Sookie and Bill discussing their dysfunctional relationship, but if I have to pick one?  "Just once I'd like to not find a dead body in my house."  So true.
Mrs. Northman: Well, it had to be everyone's favorite, courtesy of Russell: We will eat you, after we eat your children. Now time for the weather... Tiffany? Oh, Russell, how crazy and awesome you are at the same time!
ViddWizard: Actually said by me after Jason shot Franklin: "Wow, talk about it raining men, Hallelujah!"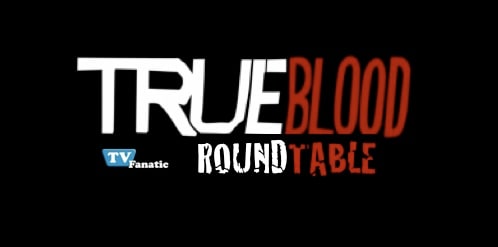 Should Hoyt date Summer or Jessica?
M.L. House: Summer. She makes killer biscuits, as well as great points about antiquing. How would Hoyt and Jessica ever decorate their home with the hours the latter must keep?!?
The Barnacle: I was previously all about Summer until I learned about her obsession with antiquing and dolls.  Bitch should go back to Wolowitz on The Big Bang Theory.
Mrs. Northman: Jessica, of course! Summer's only been in a couple scenes and every time I see her I cringe a little. She reminds me of the annoying girls from high school. 
ViddWizard: Who is that obsessed with antiques? That's more dark than any vampire. Go back to Jess, Hoyt, she truly does love you
Would you want Sookie as an aunt?
M.L. House: Would I get to shower with my aunt? If so, yes. If not... yes.
The Barnacle: Only if I were a telepath.  Think of the shit talking potential!  It goes way beyond speaking in foreign tongues.
Mrs. Northman: Sure! Why not? But only if it would mean that I would have her super cool light powers, too!
ViddWizard: Only if I didn't have to visit. She seems to be a sh!t storm magnet and I really would not want to be in the middle.
More poignant Eric scene: Telling Pam it's time to be a Maker, or explaining his past to The Authority?
M.L. House: Both showcased Alexander Skarsgard at his best. But I'm a fan of how loyal Eric is to the tradition of vampire mythology. He first showed his vulnerability when Godric came into play, and he did so again with Pam last night.
The Barnacle: Maybe I don't have the motherly instincts to feel the maker scene, but to me it's obviously Eric telling his past of his entire family being slaughtered by wolves.  I almost felt bad for the guy... but then I remembered he slaughtered the hilarious Talbot.  That was rude.
Mrs. Northman: Hmmm...I just can't get over how hot Mr. Northman is! Both scenes were great just because it was more time spent focusing on him, my husband.
ViddWizard: Eric telling Pam it is time to be a maker. We all knew how much Eric cared for Pam, but this was one of the most touching scenes for Eric we have ever seen.
Better news anchor: Russell Edgington or Katie Couric?
M.L. House: I want a straightforward anchor who tells it like it is and isn't afraid to tackle the tough subjects. So give me Russell. Moreover, he'd actually murder Sarah Palin instead of just embarrassing her. Another plus.
The Barnacle: I definitely dig Russell's entrance, but I think he'd eventually run out of news anchors to kill.  So I'm going to have to give it to Couric for longevity.
Mrs. Northman: Brian Williams! But Russell does take a close second. Who wouldn't want to watch the news with a psycho killer anchor like that?
ViddWizard: I have to give the edge to Russell. I mean, he really stepped up and showed some backbone on camera to tell it like it is. Granted, it was someone else's backbone, but seriously he really knows how to capture our attention. Right, Tiffany?
Matt Richenthal is the Editor in Chief of TV Fanatic. Follow him on Twitter and on Google+.