The bad news: following last night's True Blood episode, fans will have to wait until September 12 to find out what happens on the third season finale.
The good news: this extra time gives us a chance to analyze "Fresh Blood" in detail, starting with the latest edition of the TV Fanatic Round Table. We encourage readers to sound off on the topics below...
What was your favorite True Blood quote from the episode?
M.L. House: Gotta give props to Summer for her adorable innocence: " I showed him my best underwear. There's nothing else I can do." How about no underwear at all, honey?
The Barnacle: Definitely Pam for calling out Bill for being a tween when he was acting like something out of the Twilight series.
Mrs. Northman: Jason's "Everyone in this town ain't what they're supposed to be. So...you turn into a panther. I love you." It's great how normal supernatural beings are to the regular folks in Bon Temps. Glad Jason can be the bigger man and realize that love overcomes all obstacles... and how cute will their litter be?!?
ViddWizard: Russell: "I am about to end your insignificant existence, this is not the time to be obscure." Even as crazy as Russell has gone without Talbot, he still has some of the best lines.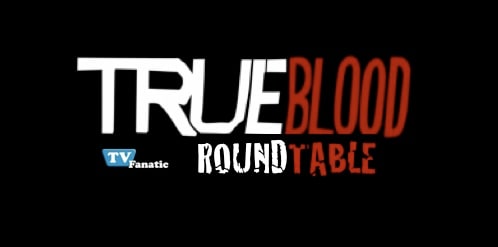 Would you send your child to Bill Compton's third grade class?
M.L. House: Absolutely. We all know the essential building blocks for life don't actually involve building blocks. I want my children to know how to resist their dangerous, base instincts; fight back against a mortal enemy; and ravage their partners in bed.
The Barnacle: That's tough. With nearly two hundred years under his belt and having experienced some of that history himself, I feel like there's a lot of knowledge my kids could take from Bill.  Unfortunately, there's also a lot of blood Bill could take from my kids.  But I'm gonna go with yes.  You can always make more kids, but it's really tough to get that kind of passion for teaching these days and private school is so expensive.
Mrs. Northman: Sure! Why not? If he's teaching school, that must mean he can walk in the daylight, which also means he's not a vampire.
ViddWizard: If he was mortal absolutely, as a vampire...well I would not want my child up that late, so sadly I would go with a normal class during the day. It was a nice fantasy for about 5 minutes thought.
More disturbing: Arlene's Wiccan-based attempt to terminate her pregnancy; or Jason's discover that V was being used as a performance enhancing football drug?
M.L. House
: I'm typically turned off by blood in that region of a woman's crotch. But I'm also a sports purist and it's just wrong to put something so unnatural into one's body. It makes a mockery of football and that school's record book!
The Barnacle: I was actually taking notes during the Wiccan ritual. So, a ring of salt and some nasty tea four times a day?  Who needs birth control?!?
Mrs. Northman: I don't really find either that disturbing, which might be the most disturbing answer to this question.
ViddWizard: V being used as a performance enhancer in high school. I can understand Jason's anger at his record being "all natural" and Kitch is juicing to get ahead. Karma is a tricky thing. I have a feeling it is going to catch up to Kitch.
What is the single most pressing question on your mind heading into the season finale?
M.L. House: What is the deal with Lafayette and Jesus and their... just kidding!!! I'm gonna assume Eric lives and go with: Will his noble sacrifice drive Sookie into his arms once and for all?
The Barnacle: I think we all had the same question burning in our minds as we saw Eric and Russell melting in front of our eyes: Will Kitch Maynard get an asterisk next to his record or not!?
Mrs. Northman: Will Bill and Sookie be able to make it past this week's hurdle of Bill throwing her to the sharks...err, vamps?
ViddWizard: How many times can Sookie be drained to near death and given vamp blood to recover before she crosses that line and becomes a vampire?
Matt Richenthal is the Editor in Chief of TV Fanatic. Follow him on Twitter and on Google+.