The 15th cycle of America's Next Top Model is all about being on "top," more than ever before. 
Having faced criticism because none of the models make a real impact in the fashion world after their 15 minutes of fame on ANTM, this season promises "real" prizes such as a "real" cover on Italian Vogue and "real" top photographers to shoot the aspiring models, which makes me feel bad for the winners of the previous cycles who apparently got shafted. 
The second episode begins with the girls on Venice Beach, where a vagabond-like singer directs them to their new digs for the season.  It's huge and gorgeous of course, adorned with pictures of Vogue Italia, the theme of the season.  As usual, ANTM is full of quirky personalities and strange revelations, as Ann reveals that "hobos are hot" and she'll date someone "up to 60."  Oh, and he also has to be a sushi-making warlock who spits fire. Go figure.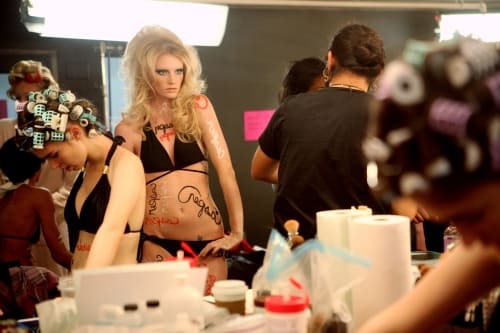 The Jays reveal to the girls that they will be walking in a Diane von Furstenberg runway show in midair! The runway is four stories up and the girls will be doing their own makeup and hair for this elevated challenge.  The challenge was actually quite intimidating, with the girls strapped in harnesses atop a swaying runway that was made from glass.
The theme of the episode's photoshoot is teen bullying, and Jay Manuel explains the concept by donning his bully word shirt: "Band Geek" and revealing what he is now: "Creative Genius."  The girls must all confront what they were in one word and write those words on their bodies while they're modeling swimsuits.
They will then write their "power word" to show their transformation.  It's definitely an interesting concept to shed light on a prevalent social problem.  Tyra Banks joins the girls wearing a shirt that says "Big Forehead" and rips it apart to show that she is now a "Supermodel turned Businesswoman... with a Big Forehead."
During the shoot, Kayla - who wants to be the first gay ANTM winner - breaks down, revealing that she was bullied as a teen for coming out.  Meanwhile, Terra, one of the sisters, cries during the shoot, showing her nerves.  Anamaria continues to berate the girls, calling them mundane while Jay criticizes her emaciated and bony body. 
However, she brushes off the criticism because she is on a "calorie enforced" diet and she obviously "knows best."  After the shoot, Demi Lovato makes a surprise visit and talks about the importance of preventing teen bullying and promotes her website: Teens Against Bullying.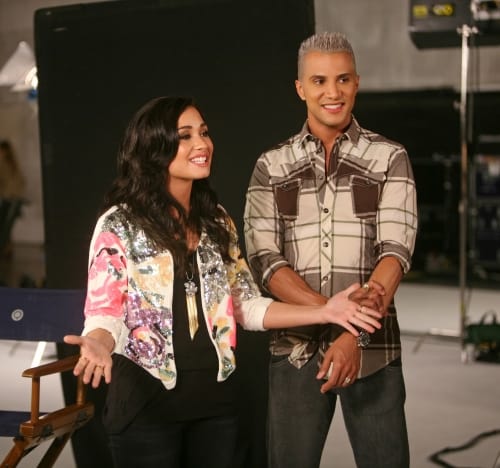 ANTM added a new feature this season: showing the judges talking and greeting before judging.  I'm not sure if this adds any credibility or artistic merit to ANTM, but it is fun to see the judges before they wear their stern masks.
Tyra does her spiel with her judges and delivers on the promise of legitimate judges with Diane von Furstenberg as a guest.  She also emphasizes the importance of this season's prize: Vogue Italia.  During judging, poor Kayla breaks down again and is lauded by the judges for her choice of power word: free, along with her her modeleque picture.  I also don't think ANTM can do one episode without mentioning Esther's G-cup breasts, although she is quite good at hiding their size. 
When Tyra brings up the question of how thin Anamaria is, she gets very defensive about how much she loves her bony body.  But even Diane von Furstenberg, who loves thin models, calls her out on her unhealthy look, saying "beauty is health." 
Diane also tells Ann that she can be big as a model, while the girl also gets first call-out by Tyra.  Kayla, Chelsea, Kendal, and Lexie are praised for their photos while Terra and Anamaria land in the bottom two.   Terra is criticized for being safe and obvious while Anamaria is criticized for being too thin.  Despite being eliminated, Anamaria maintains that she loves her body the way it is, sadly disregarding Tyra's gentle suggestions to eat some bread with butter.