With the awkwardness of Castle's return behind the show's title character and Beckett, the partners quickly got folded into a strange murder case on this week's episode, "He's Dead, She's Dead."
We were teased back in July that someone close to Castle was going to die. Last night, we found out that the never seen, yet often mentioned Chet, (Martha's boyfriend) was the one who perished.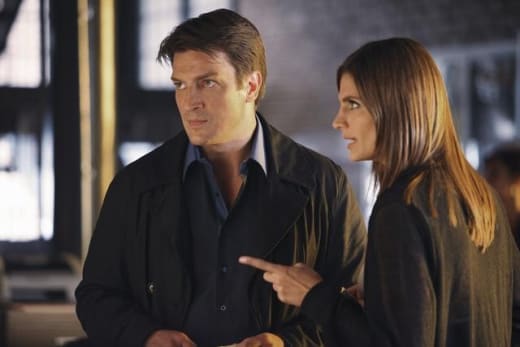 [Photo: ABC]
I am disappointed it turned out to be a character we never met that died, as we had no attachment to Chet. It really seemed like an odd thing to tease months ago for such an underwhelming result.
On the flip side, we did learn that Rick Castle's real name is Richard Alexander Rogers (or as my wife pointed out, the initials spell "RAR!"). I am intrigued how this may come into play down the lone. With the psychic's daughter rushing in to tell Beckett that someone named Alexander will become important to her and save her life, there was some serious foreshadowing going on. Of course, given how the hyped death went, he may just prevent her from stepping in front of a bus.
My disappointment with who died aside, this was another very well written episode. As always, we were trying to figure out until the end who actually committed the murder. Adding a second layer onto of the murder, of Beckett and Castle debating magic and the supernatural, was both hysterical and touching.
It was great how the writers showed both versions of a medium/psychic. First, Vivian turned out to most likely be a fraud, but then her daughter Penny seemed to have some real talent, as the Masons did lead them to the truth.
Finally, I want to give kudos to Nathan Fillion for his ability to work a reference for his love of the double rainbow guy into the show. For all of us geeks out here who caught the reference, it will become a classic!
Jim G. is a TV Fanatic Staff Writer. Follow him on Twitter.