I'm hoping we can move away from the soap-y relationship-y stuff and into bigger, fast-paced, self-contained escapades.
Unsurprisingly, Abed took a moment on the season premiere of Community to sum up the one complaint some viewers had about season one: there was too much of focus on Jeff's love life, as a cliffhanging kiss with Annie is not the sort of finale scene fans of a sitcom expect or desire.
But Community tackled this topic perfectly on "Anthropology 101," by playing it up and mocking it to hilarious results.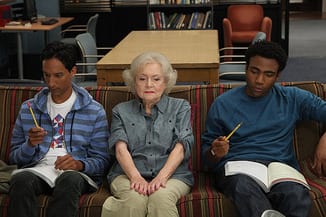 Romantic sparks between Jeff and Britta felt a bit forced last season... so I was thrilled that the show acknowledged this by having the characters purposely force a relationship. It was hilarious to watch a pretend coupling based on spite and a desire to one-up the other.
Other bits/lines that stood out:
Troy greeting Britta with "Hi, 'Toy Story 3" when she popped up amidst discussion of that movie.
Shirley asking Abed if he was being "meta."
Jeff referring to The Twilight Saga as proof that "men are monsters who crave young flesh."
Simply put: @oldwhitemansays. That Twitter account actually exists, by the way.
Pretty much everything Alison Brie does and says as Annie. I especially loved her initial description of their kiss (technically, it was Frenching, as she read in... National Review) and her sad screaming, juxtaposed against Shirley elation over Jeff and Britta getting married.
Abed hired a George Clooney impersonator, who even mentioned that actor's awful Batman movie. Amazing.
Just great stuff all around. What was your favorite line?
Matt Richenthal is the Editor in Chief of TV Fanatic. Follow him on Twitter and on Google+.