The FBI's Behavioral Analysis Unit has always seemed like a family, making the departure of A.J. Cook from Criminal Minds even more controversial than a typical TV casting move.
Wednesday, the family bid farewell to agent Jennifer Jareau in the fittingly-titled "J.J." Like Cook's many fans, Hotch and the rest of the BAU didn't seem too happy about it, either.
After shining in last week's season premiere, Cook did so again last night in her swan song, an emotional sendoff that probably overshadowed what was a typically solid episode.
Hotch is not pleased about the DOD poaching JJ.
The team is called in when a girl, Kate Joyce, is reported missing on vacation in Atlantic Beach. Her friends say she never returned to her hotel after leaving the club with two guys.
Syd and Jim are suspected of harming Kim but aren't talking and it's been days. The clock's ticking before the two, who haven't been charged, are released. The team goes to work.
Morgan interrogates Syd and downplays him. Prentiss let's Jimmy see Syd getting food, and determines he's just a follower in all this. Hotch notices Jimmy's depersonalizing Kate.
But the big breakthrough comes from J.J.
Looking at pictures, she notices Kate's phone, which was found in her room, in the back seat of the car. This is the catalyst that leads them back to the room and on to the inlet.
It turns out Jimmy didn't kill Kate, but he did leave her in the water. Fortunately, she's found alive, clinging to a buoy, and at the hospital, her dad praises J.J. for saving his life.
Meanwhile, the Department of Defense tells J.J. she has must leave. Like Criminal Minds fans petitioning for Cook to stay, Hotch tries to go over the director's head to no avail.
He tells her it wasn't his call, she won't be replaced and that he hopes to get her back. It's an emotional goodbye as she leaves the exit interview in Strauss' office speechless.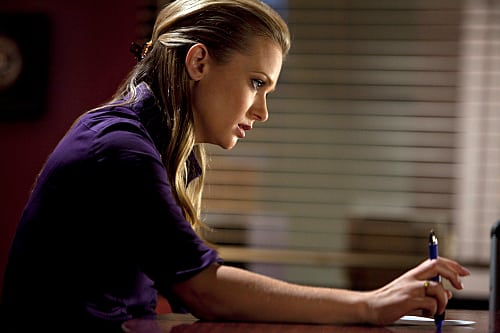 We'll miss you and wish you all the best, A.J.
It's nearly impossible to evaluate last night's show as we would a typical episode, given the pall J.J.'s exit cast over it. This speaks to the popularity and depth of the character.
Will she be replaced? Can she be replaced? It seems like such an unnecessary change to us, and while it may not be devastating to the show, J.J. leaving certainly doesn't help.
Is there a new J.J. waiting in the wings somewhere? Or Criminal Minds flesh out its existing characters more instead? There's certainly room to do that, with Morgan for example.
Still, you get the feeling watching Criminal Minds, more so than most procedural shows, that the cast as a whole was greater than the sum of its parts. This void won't be filled easily.
The show has its work cut out for it going forward, especially after the way she shined these past two weeks. In honor of Cook's exit, here are some of our favorite J.J. moments:
In last season's "Risky Business," when we learned the painful fact that her sister took her life when J.J. was 11, after the team solves a case of teen suicide.
In the second season, when the abduction of students from her hometown struck a chord with her, and we learned not only about her past but how she values her role.
Way back in the first season, when serial killer Jacob Dawes tried to exercise a privilege only her friends have. You're not my friend. Heart, soul and a little attitude.
When she kissed her "secret" BF, Det. Will LaMontagne, in front of her colleagues.
When she took out James Colby Baylor in truly bad-ass fashion.
When she asks Reid to be her son's godfather. It was poignant.
Last week's hostage-negotiation, working the personal angle.
What's your favorite JJ moment? Was last night's episode a fitting sendoff? Will the show be able to overcome her departure? Sound off on Criminal Minds here.
Steve Marsi is the Managing Editor of TV Fanatic. Follow him on Google+ or email him here.