From Miguel Prado to the Trinity Killer, Dexter has spent the last two seasons dealing with a single antagonist.
Producers have insisted that won't be the case on season five, but its opening episode proved otherwise, as Dexter has a new enemy with whom to do battle: himself.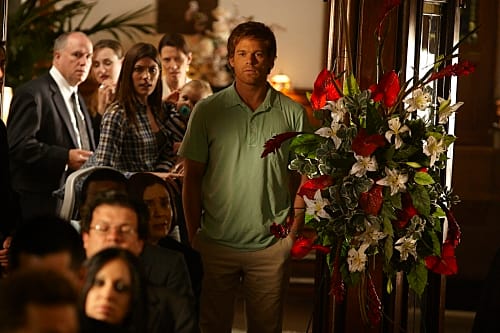 From the first words out of Dexter's mouth ("It was me.") to his concluding eulogy at Rita's funeral, the man whose Dark Passenger controls his life tried as hard as he could throughout this hour to act human.
At times, it seemed like Dexter felt legitimate guilt; at other times, he seemed like he simply wanted to. Whenever that emotion did set in, however, it wasn't due to any over-arching self-analysis. Dexter doesn't lament who he is, he accepted that a long time ago.
Instead, our favorite serial killer focused on the practical aspects of his mistakes, wondering why he hadn't killed Trinity sooner, thereby saving Rita's life.
As always, Michael C. Hall was simply outstanding at playing someone struggling with how to fit into a world with which he's wholly unfamiliar. I both shuddered and smirked at Dexter's cold way of breaking the news of Rita's death to her kids and parents: I'm sorry for your loss. But what, exactly, did Dexter here? It remains unclear whether he truly loved Rita, or simply saw her as a way to seem... normal.
What did you think of the flashbacks to their first date? These scenes made Rita seem like the most understanding woman on the planet. Who out there would actually call up your blind date a couple hours after he acted so strangely at dinner?
Overall, this was a necessary episode, but it wasn't exactly an exciting one. We do need to see how Dexter mourns, or attempts to, but I adore this show for the holes Dexter often digs for himself. I want to see him embrace his Dark Passenger... while trying to act like a regular human being... while trying to stay a step ahead of the police or his latest adversary.
It's safe to assume Dexter's connection to Trinity, along with the mystery of Kyle Butler, will soon be explored (likely by Quinn, if he can stop getting down with Deb on kitchen floors for a few minutes) and then the cat-and-mouse adventure will truly begin.
What did you think of this premiere?
Matt Richenthal is the Editor in Chief of TV Fanatic. Follow him on Twitter and on Google+.