Terriers premieres on FX tomorrow night. Set your DVR accordingly, as we've seen the pilot episode of this dramedy and it's terrific.
Earlier today, we also participated in a conference call with star Donal Logue, who plays private investigator Hank Dolworth. Here's what he had to say about the show and his character:
How would you describe Terriers?
It's throwback to that golden age of 70's television. Those buddy, private investigator-type of shows (such as The Rockford Files). But it's rooted in a realistic style emotionally and cinematically. I hope it hearkens back to the fun ride of those 70's shows.
What do you like about your character?
He doesn't give up. Once you feel like you've lost all the things you've been living for - your wife, reputation, career, whatever that is - you're free to embark upon a new life and form of behavior and that frees up Hank to think, as he says on the pilot [regarding his detective operation]: "Maybe we are big time and we didn't know it."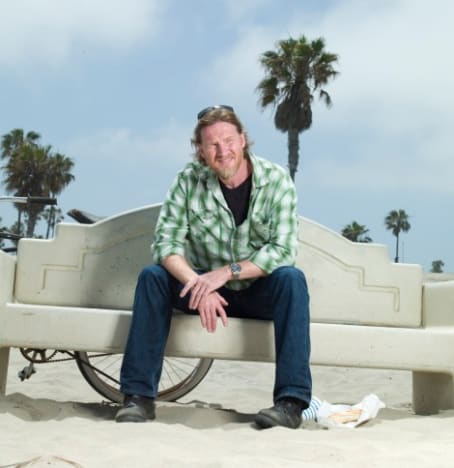 Talk about your chemistry with co-star Michael Raymond-James.
It's a unique situation because I worked with him on the show Life. He and I instantly bonded - actually over a Jack Kerouac novel - on the set and by the end of the first work day, I realized: this guy will be a friend for life.
There seems to be significant roles for strong, realistic women on the show. [Logue's sister in real life plays his sister on the show].
I have three sisters, so I've always been really close to women. Men and women can talk to each other and rely on each other, that's something I believe and Michael believes and our characters believe. My favorite individual scenes are always with the women on the show because a unique side to my character gets to come out.
Can you compare this to your past work on sitcoms?
On Terriers, you quickly realize it doesn't have to be funny at all times. Scenes and storylines can take their time to find a rhythm and a pace and it's more based on what's real to the character in the moment. Sometimes, like in real life, that lends itself to humor. Other times, it's serious.
Matt Richenthal is the Editor in Chief of TV Fanatic. Follow him on Twitter and on Google+.