Exclusive Interview: Allison Scagliotti on "Bigger, Badder, Sexier" Season of Warehouse 13
Gabrielle Compolongo at .
It's Warehouse 13 week on TV Fanatic!
First, we published the first-ever Round Table discussion dedicated to this SySy series. Now, we've spoken to star Allison Scagliotti and are excited to present the following interview with the woman behind Claudia. What can fans expect to close out season two? Read on. Find out.
What can we expect from the rest of the season?
It gets bigger, badder, sexier, and faster. The great thing about season two is that every episode is different. We get to play with superheroes, movies, and a fashion show. There's something for everyone, and there's never a dull moment.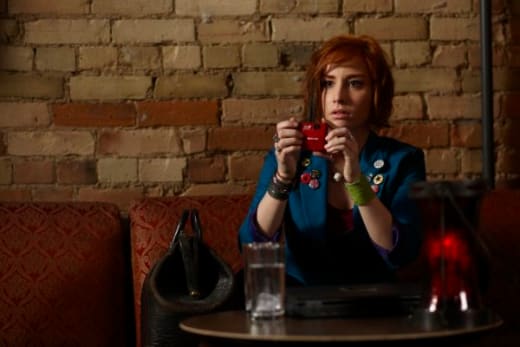 What has been the most challenging episode for you to shoot?
Coming up, my character Claudia goes out onto the field with Myka, and in doing so, she has to come face to face with the fact that she's not a trained secret service agent, she's not particularly graceful or savvy as her older mentor is. But she knows this is the life she wants, she wants to be a Warehouse agent. I think it's a great episode for girls to see that what's important is being who you are. Claudia's attempting to be like Myka, so I had to ditch my funky style and get all buttoned up and do a Joanne Kelly impression [laughs].
Are you anything like Claudia?
I bring a lot of my sense of humor to Claudia. I'm sort of snark out of the side of the mouth. I wear a lot of my own jewelry. Claudia's wardrobe is 50% our amazing costume designer and 50% my own. Claudia's a little bit goofier than me. I bring my own insecurities, my own wants to fit in, and it's a great opportunity to speak to girls like me everywhere.
Many viewers are surprised to find out your age (20) after watching your mature performance.
I've been getting that since I was three. I used to answer the phone and my parents friends used to think I was 12. Maybe it's because I have a deep voice, I get told a lot that I have an old soul. I've always been the type to commit to something 100% if I decide to pursue it. I don't ever want to do something halfway. It's extremely flattering to be told my performance seems mature. I've never met an actor that isn't insecure at the end of the day, so that's nice to hear.
What attracted you to this role?
I loved how complex she was. I loved her rich back story and how edgy and strong she was. I love playing strong, smart girls. The fact that Claudia was a self-made hacker, and lived alone for 12 years after her brother disappeared, I thought was really, not only touching, but mysterious and had a lot of opportunities for exploration. In season three I'd like to go even deeper into her past. We know that she was an orphan, but we don't know what her life was like before.
Anything else in the works?
There's a viral campaign going on for me to be in Hack/Slash, the central character being Cassie Hack, on the run hunting down murders. There's a new campaign on Twitter, AllisonScag for Cassie, which has since spawned t-shirts being distributed at Comic Con and various interviews. It's gotten attention from the people who need to pay attention, so I can't say too much about what's happening with that, but it is moving forward. Fingers crossed for fan-made casting.