The second episode of this freshman series picked up right where we left off last week. The Hellcats are at qualifiers at the outset of "I Say a Little Prayer," waiting for their chance to compete. They need to do place or else the university is going to cut their program.
Marti's mom, Wanda, shows up to the competition because Alice invited her when she stopped by the bar. As embarrassing as Wanda is supposed to be, she seemed pretty harmless at the competition. She just wanted to be there to support her daughter. Dan came to support Marti and ended up having a quick conversation with Savannah.
There is definite chemistry there, and that is something I would like to see. I hope they don't go down the Marti/Dan route because I just don't feel it between them.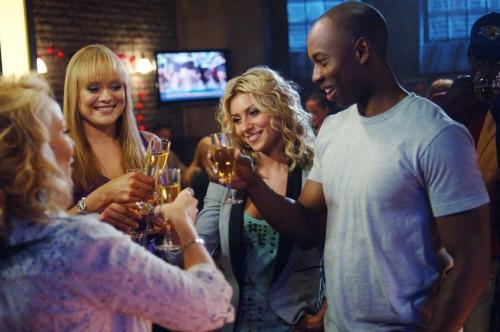 Memphis Christian, the Hellcats' rival, has an injury during their routine when one of their flyers, Charlotte, gets dropped. Turns out that the MC flyer is Savannah's sister. Savannah visits her at the hospital and has a run in with her mom. The family hasn't been in the same room together in a year, as they shut her out when she transferred to Lancer, so it seems like she is constantly overcompensating.
It's nice to some background to Savannah. It gives us a glimpse of why she is the perfectionist that she is.
Later on, Wanda stops by the dorm. She gets drunk and tells Marti that she got evicted from her apartment for trashing the landlord's car. Now I can understand why Marti can't deal with her. At some point, you do have to grow up, Mrs. Perkins.
On to Vanessa, who has her own conflict taking place between her boyfriend and her past with the new football coach, Red. This triangle looks like it could have some potential, but right now it is not enough to draw me in.
Overall, the second episode proved to be even better than the first. The majority of the characters are likable, except Alice, who still acts like she is in high school. Like I said, I really am open to the idea of Savannah and Dan, I just have to realize that Dan is not psycho Derrick from One Tree Hill and we'll be good.
Ashley Tisdale is really shining in her role. I was nervous for her to be on this show since the majority of her career has been with Disney, but I am thoroughly impressed with how she is pulling Savannah off.
A closing note:  the routine the Hellcats performed at qualifiers was fantastic and the tumbling was off the charts. Kudos to those playing squad members.
So, TV Fanatics, what did you think of "I Say A Little Prayer?"