I don't want you to change. I know you're screwed up. I know you are always gonna be screwed up. But you're the most incredible man I've ever known. You are always gonna be the most incredible man I have ever known. So unless you're breaking up with me, I'm going home now.
We've heard of doctors making a house call before... but never like what took place on the House seventh season premiere!
The show's title character and his long-time love never even left the former's apartment, as they remained bed, couch and bathtub-ridden for the duration of "Now What?" trying to answer the question posed in the episode's title.
They've admitted their feelings for each, they've had sex, Cuddy has called off her engagement... where do they go from there?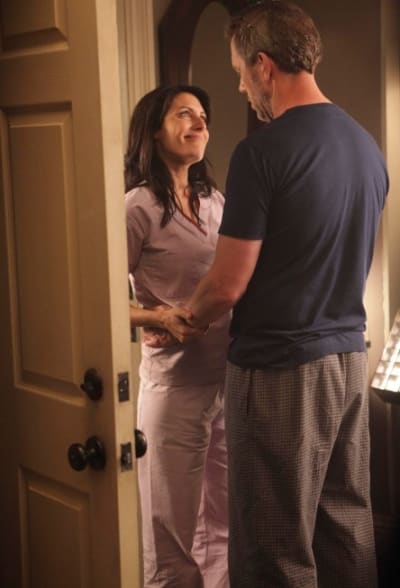 Loyal fans of this series need to give full-on props to Cuddy. Without her strength and comforting words, House would have sabotaged this relationship before it even had a chance. He truly has no idea how to be happy, and he's smart enough to know he'll never change.
Simply admitting this to Cuddy was a change, however, as it proved House was thinking about someone else's feelings. He could easily have gone on dating her, never saying a word, and not caring if it ended in disaster. But this is Cuddy. This is the one woman who knows him so well that she's aware of his (self-pleasuring) intentions when he snaps a photo of her at Halloween.
House might always think of himself as a selfish prick, but he isn't that way around his boss.
Simply put, Cuddy didn't accept any of House's BS. As the saying goes, she isn't looking for someone perfect; just someone perfect for her. And she's sick of fighting her feelings and beating around the bush with House. She wants to be all-in and she isn't gonna let House's self-loathing get in the way of what could be the relationship both have been seeking.
Heck, after her speech about how "incredible" of a man House is, despite his major faults, we'll totally date Cuddy if this thing doesn't work out. Despite the looks on both her and House's faces once they finally said goodbye, though, we think it will. Hopefully, with a few interesting, humorous obstacles on the way for viewers to enjoy.
Other notes from the episode:
House pulling Wilson to safety, across a sliding kitchen table, was one of the funnier physical gags the show has ever done.
You couldn't have thrown Chase some farewell sex, Thirteen? Come on! Have a heart.
Producers have said Olivia Wilde will be gone for most of the season, as she's filming multiple movies.
Foreman actually smiled and acted like a c
Matt Richenthal is the Editor in Chief of TV Fanatic. Follow him on Twitter and on Google+.