Wow. Some TV Fanatic staffers insist the Jersey Shore cast is in on the joke, so to speak, and intentionally upping the awfulness here in Season 2. Even so, it is truly awful.
Funnier than ever, sure. But it's like someone filmed a reality show in a college fraternity house. Okay, we take that back. No way any of these idiots could get into college.
"Dirty Pad" proved to be a cleverly revolting double entendre of an episode title. In the figurative sense, the group's pad can be a gross place. In the literal sense ... OMFG.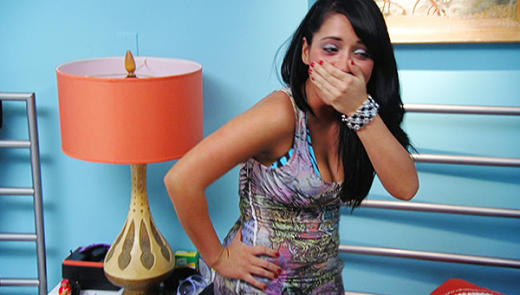 Our reaction at least 12 times last night.
Having covered pretty much every other topic, menstruation played a key role in the episode. This being the Jersey Shore cast, you knew they'd tackle it in classy fashion.
The Situation and Angelina, having butted heads all night, finally came to blows over feminine hygiene products being left around. Meanwhile, she continued to play Jose.
In developments that didn't make us throw up, Pauly D's hair passed a rigorous all-night test, Vinny was buried in the sand, and JWoww and her man Tom argued a lot.
Some of last night's top Jersey Shore quotes after the jump ...
Pauly D: How the hell did I wake up and my hair still done? | permalink
Ronnie: Angelina cheated on Jose.
Sammi: Ronnie told Jose she was his boo. But then she smashed Vinny. Therefore, if she says she's my friend, that means she's not my friend.
Ronnie: We really need to improve our school system. | permalink
Angelina: I hate that guys can [smash lots of people], but girls can't. | permalink
Ronnie: [on the bed] My children, Pauly's children, Snooki juice. | permalink
Pauly D: I almost seen your cooca!
Snooki: My cooca's out! | permalink
The Situation: Every month, there's a situation. | permalink
The Situation: Shut your mouth you dirty little hamster.
Angelina: You look like Popeye on crack.
The Situation: You look like a ho.
Angelina: You're a dirtbag and your penis should fall off. | permalink
Angelina: I threw away garbages!
The Situation: Garbages? | permalink
Tom: I'm done! I'm outta here, I'm done! | permalink
Steve Marsi is the Managing Editor of TV Fanatic. Follow him on Google+ or email him here.