One Tree Hill Review: "I Can't See You But I Know You're There"

Dan Forcella at .
What a stomach punch. 
I was all ready to be back on board the One Tree Hill train after an improved season premiere... and then this?  On "I Can't See You, But I Know You're There," Clay and Quinn took near-death hallucinations to a whole new level, and not in a good way.
I am not one for dream sequences in general, but I could choke down the scenes by these two in the premiere because they were off in their own beach setting.  I assumed once they figured out what was going on, it would be the end of it.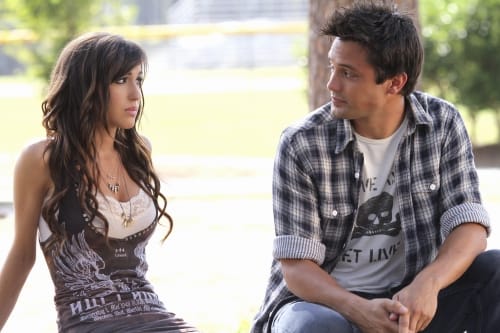 Boy, was I wrong!  What I couldn't handle is the fact that these two were having simultaneous out of body experiences in which they watched their own surgeries.  I mean, come on, that is tough to sell me on.
And how is Clay so knowledgeable on how these types of in between life and death situations work?  He knew that Quinn feeling weaker meant that she was going back to real life, and he knew exactly when she was going to leave him in this limbo of a reality?  Why?  What's the reasoning behind his obscure knowledge on this subject?
So now that we have that out of the way, let's get to the other stuff I didn't like about this week's episode.  I still can't get over how underdeveloped Clay and Quinn are as characters.  As they hung in the balance of life and death, I found myself not caring whatsoever about which way the landed.
I mean, the moments in which James Lafferty and Bethany Joy Galeotti gave such great monologues to unconscious Clay and Quinn, respectively?  Those were great, but I could care less because of the characters they were having the heart to hearts with.  If that was Lucas and Peyton lying in those hospital beds, I definitely would have shed a tear or two.
And onward to the only other story of the episode that gave us much to work with.  The Chase/Mia/Alex triangle, and Mouth's return, could have been cut entirely and I would have been okay.  But the dynamic between Julian and Jamie was interesting to me.
When Jamie and Nathan interact, it doesn't feel comfortable at all.  It's very mechanical and their love for each other doesn't really shine through.  Jamie and Julian, on the other hand, work like gang busters.  Their chemistry in the scene where they are conjuring stories for people at the arcade more than made up for the horrific batting cage scene just before it.  Seriously why are TV shows so bad at sport segments?
Although Julian's character is enjoyable when interacting with Jamie, that's about the only time he is still worth watching.  This all-around good guy version of the character isn't nearly as entertaining as the sarcastic, disinterested Julian we first met in season six.  Julian has matured, just like Nathan did back in the early seasons. We need another male jerk to come on the show to break up this gang of nice guys.
Anyway, Quinn has come back to life, while Clay still lies in the balance.  When will he make his way back?  And do you care if he does?  Questions about Haley's pregnancy and Nathan's health status are still up in the air.  Things should get interesting in the coming episodes, as long as the out of body experiences end soon.
Other Thoughts:
Starting every episode this season with Haley writing to Lucas would be a great addition.  Let's hope this stays.
They really knew what they were doing with the nostalgia of bringing the theme song back.  Having different people perform it from time to time makes it that much better.  This week the opening credits were performed by Kate Voegele (Mia).
This week in the quirky One Tree Hill-ism in which different characters say the same thing seconds after each other, we had: Brooke and Mia both having "long stories" and Mouth, Mia and Brooke all claiming "it's my fault."
What were your favorite One Tree Hill quotes from the episode?
Dan Forcella is a TV Fanatic Staff Writer. Follow him on Twitter.