Who do we work for?
Due to a FBI lockdown, Will was able to break into Spangler's files this week and come to a disturbing realization: not only is there a conspiracy surrounding David's death, but the actual work he and his team do on a daily basis might be contributing to it.
On "The Truth Will Out," Rubicon never really left the API building - except for a couple of scenes with Katherine that felt like a waste - but it didn't need to in order to build tension.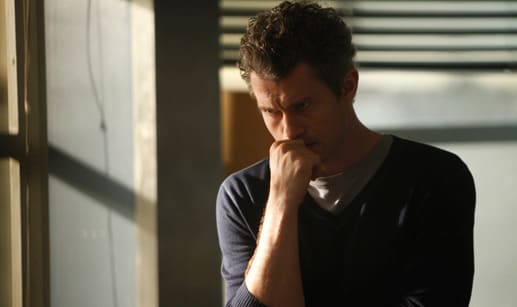 Each polygraph scene gave us insight into various characters. To wit:
There was an "investigation" into David prior to his death. This was all Will could focus on, as he didn't seem remotely affected by the lie detector itself.
Tanya was forced to admit to her drug use, while later seeming more motivated than ever to actually work, inspiring the team to identity a key player in the George Boeck saga.
Miles was more fidgety than ever, even after being granted a nicotine fix. Dallas Roberts has this character's mannerisms down to a science.
Grant proved that Miles isn't the only team member with marital problems. Do we think he cheated on his wife? Or can a polygraph really read when someone would simply be willing to?
Ingram was simply hilarious, cooler and calmer than ever, reinforcing what we learned last week: the man may be hard to read and a bit shady, but he's on the side of good.
We didn't see Spanger's polygraph, of course, which it's safe to assume was a purposeful action meant to cause us to wonder more about this individual.
Why was he watching David and Will? Did he have David killed due to the conversations he had with Ed? What is the end game of this man, who said if he were the leak, "the country implodes." He clearly thinks he's doing the right thing.
I'm anxious to find out what that thing actually entails.
Matt Richenthal is the Editor in Chief of TV Fanatic. Follow him on Twitter and on Google+.