We weren't big fans of the True Blood finale, as it wrapped up little and simply served as a tease for season four.
Still, the episode has at least given our staff plenty to analyze in the most recent edition of the TV Fanatic Round Table. Let's get right to it, shall we?
Will we ever see Tara again?
M.L. House: Maybe. All I know is that I can't stop seeing her in my nightmares and SHE WON'T STOP CRYING!
The Barnacle: I think we can all agree on one thing: we'll never see Tara as a stylist again.  Seriously, worst hair cut ever.  And that includes the Jew-fro I've been rocking.
Mrs. Northman: I'm pretty certain we will. She's not a huge character, but she is all Sookie has. I couldn't imagine her leaving for good without saying goodbye to her.
ViddWizard: I think we might, but I really hope it is after she has gone to see Alcide's sister and gotten Janet's help with her new look.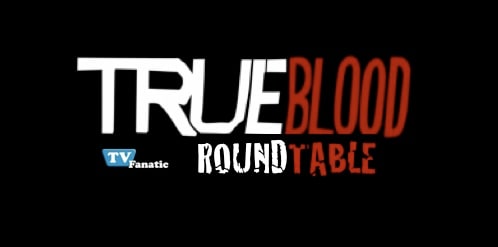 Would you wanna live under Jason's rule?
M.L. House: Heck yes! Have you seen his abs, the expression on the face of girls when they leave his bedroom, the... wait, I thought you asked if I just wanted to be under Jason.
The Barnacle: Sure. Sometimes morons make the best leaders.  Right, W?  Palin 2012!
Mrs. Northman: That's a silly question. Who really would? Love Jason, but this guy can barely take care of himself, much less a community.
ViddWizard: One moron to find them all, one moron to bring them all, and in the dirt bind them. I am sensing a trip to Mount Doom in Hotshot's future, as the town will have to take Jason's letterman jacket and cast it in. 
Did Sam kill Tommy?
M.L. House
: No. But this storyline, which never came together with anything or anyone else on the show, nearly killed me every time it was the focus of an episode.
The Barnacle: Now that I know Tommy is illiterate, I can trash him all I want on this site. I wish he killed that ungrateful little shit.  But, alas, I can read and saw on TV Fanatic that Tommy will be back next season :(
Mrs. Northman: I doubt it, but I do think he really hurt Tommy. Really, what's gotten into Sam lately?
ViddWizard: Nah. He is trying to do better than his past. I think he just winged him, (especially if he tried to fly away.)
Who will win their showdown, Bill or the Queen?
M.L. House: Bill. Hopefully, this will be the start of him truly taking action and transforming into a major bad ass. That's was my favorite aspect of the finale.
The Barnacle: She may have the beauty and the age, but Bill has the most important thing going for him: he's in the starring credits. Like Marilyn Manson must feel every day, I will miss that gorgeous face.
Mrs. Northman: Hmmm, I am not so sure about this one. I can't believe they left us hanging for a year in mid-fight! I really dislike the Queen, so I do hope that Bill wins!
ViddWizard: Which one had Kung Fu downloaded right before the fight? Seriously, when did it become True Matrix.
Where the heck did Sookie go?
M.L. House: To Boardwalk Empire. You know, a HBO show that isn't heading downhill quickly.
The Barnacle: Looked like P-Town to me.  Get it?  Cause of the faeries... Oh man, that was offensive.  Even for me.
Mrs. Northman: I think Sookie went to a magical land where all the fairies live, another world where they can run free, dance, and be happy.
ViddWizard: I am going to agree with Mrs. Northman, as clearly she was describing Disneyland.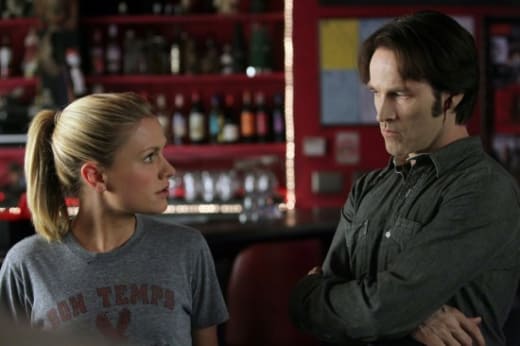 Matt Richenthal is the Editor in Chief of TV Fanatic. Follow him on Twitter and on Google+.