One of our favorite aspects of The Venture Bros. is how the show is constantly blurring the lines between good and evil.  This week's episode, "Every Which Way But Zeus," was especially fun as we saw the two sides teaming up against an unknown force posing as Zeus.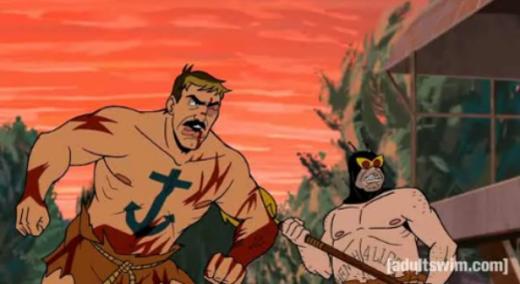 The episode also explored the show's interesting take on the relationships between henchmen slash sidekicks ans their bosses, as the Zeus character only captured the underlings.  This was, of course, because Zeus was revealed to be an apparition and the real villain was Zero, the original henchmen #1, long thought dead.
It was just entertaining to see two of our favorite supporting characters, Henchman #21, sorry the new #1, and Shore Leave team up to take down the villain, while the supposed real heroes and villains were too busy arguing theoreticals during a secret underground meeting.
Maybe The Venture Bros. was just that much better than last week's, or maybe it was combined with the fact we just had to review two far inferior cartoons, Family Guy and The Simpsons last night, but this episode just felt perfect to us.  It had the humor, action, and ridiculous back references and continuity we crave each Sunday night at 11:30.
Plus there was something kind of touching about Rusty revealing his feelings for his supposed least favorite kid, Hank, and then watching him pour his soul out to Teddy Ruxpin.  Our favorite Venture Brothers quotes are after the jump.
Hunters Gathers: Her tits were like "coming home from school and finding out your old man ran over your cat" sad.
Brock Samson: Mournful tits. She has mournful tits. They're like two suicide notes stuffed into a glitter bra. | permalink
General Treister: All of you have been assigned nicknames, while I have not, because I am special! All of you are in peculiar underpants, while I am not, because I am special! | permalink
Dr. Venture: You can't collect scientists and not have a Rusty Venture on your mantel. | permalink
Hunters Gathers: Cavity search my ass. You know what I mean. | permalink
P.S. Did anyone else smile when they saw the hover tank return?
Eric Hochberger is the programmer of TV Fanatic, so please forgive his mediocre writing. His programming is far better. Follow him on Twitter and/or email him. Just don't request threaded comments. They're coming.