90210 Review: Teddy Goes Mel Gibson, Sasha Goes Magic Johnson
Matt Richenthal at .
Let's change things up a bit on this week's review of 90210. With numerous storylines being thrown at viewers, and a few one-liners that deserve special mention, join me for a point-by-point rundown of "The Bachelors."
Good call by participants in our 90210 forum. When they heard awhile ago that Sasha was returning, many guessed she'd deliver HIV-related news. If I believed for a millisecond that the show would take a major leap and give Dixon this disease, I'd be intrigued by this development. But we all know it will just result in a scare and a lesson about safe sex, don't we?
Dixon did at least make me laugh out loud once, as he told Ivy not to worry, many people pay for their first time.
I'm all for protection, but are you a PSA or a television show aiming at realism, 90210? No one has a variety of condoms just available in her living room drawer. Unless Laurel has a very different occupation than we've been led to believe, that is.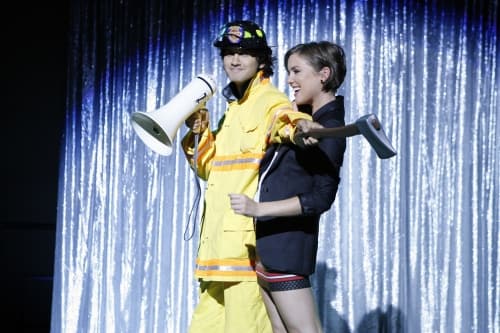 By the way, Silver: way to screw over breast cancer research just to avoid sending Dixon on an awkward date. Who knows how high Sasha would have bid?
Speaking of the auction: what's the highest you'd pay for one of these men, and who would it be?
It's "Iranian men?" Sorry, but I laughed at that, too.
What a waste of a cliffhanger from last week's episode. Naomi just awakens from her overdose, actually seems more healthy/functional than usual, learns she has the support of her friends... and that's it?
Teddy erupting with that "fagot" comment? Didn't see it coming. Ivy referencing Mel Gibson in a humorous, apt quip? Same.
My wife, upon seeing Liam and Ian go at it: "This seems like an unfair fight. "That guy's tiny... and Teddy's like 40."
Annie doesn't wanna be reminded that she's a murderer? Funny. Neither do any viewers. We've spent weeks in therapy, trying to forget that storyline ever existed.
What's there to even say about Charlie being revealed as Liam's half-brother? For now, it just seems like another contrived obstacle to get in delay a relationship between Liam and Annie.
Overall, a decent episode with a few funny lines. But there's no real tension in any major storylines due to their total predictability (Let us guess: Dixon's won't be HIV positive, Annie won't sell her eggs, Mr. Cannon will be brought to justice and Teddy will be reveal himself to be gay). Do you agree? Do you wish 90210 offered more surprises?
Even when it doesn't, it can at least offer up a few hot bodies. Click on each one below for a larger view:
Matt Richenthal is the Editor in Chief of TV Fanatic. Follow him on Twitter and on Google+.