Which 90210 hunk would you pay the most to date? Is Dixon really HIV positive?
These are just two of the questions we tackle on this week's edition of the Round Table, as our staff analyzes "The Bachelors." Won't you come along and join us?
Which 90210 hunk would you pay the most to date?
M.L. House: Navid. I'm not against a six-pack, but I'd rather have a sensitive shoulder to cry on than a broad one to stare at.
LJ Gibbs: Liam. You don't need to ask why, do you? If so, I simply direct you to the scene where he confronted Annie in the bathroom, shirtless, handsome and... sorry, I lost my train of thought.
The Barnacle: I'm with the women in the audience: give me Mr. Matthews or give me a long, hot bath by myself!
Is Dixon HIV positive?
M.L. House: Of course not. I don't wish to belittle such a powerful topic and important storyline (please do practice safe sex, readers), but 90210 won't actually give us a main character with this disease. The show would simply never go there.
LJ Gibbs:Liam. No, but at least this is a weighty topic. I'm calling you out, M.L. House: you complained a couple weeks ago that the show lacks truly dramatic storylines. So shouldn't you at least give it props for stepping up and taking on a serious topic?
The Barnacle: I'm gonna go out on a limb and say yes. The series is clearly trying to take on intense issues this season, as evidenced by Naomi's rape. Why not go all out and really tackle something as prominent as AIDS?
What job should Debbie take?
M.L. House
: I didn't know she even stopped being a photographer. She said this week that she's been out of the business for a very long time. But didn't we witness her at various gigs throughout season one?
LJ Gibbs: Jen could use a personal assistance, couldn't she? Or maybe a nanny?  Adrianna could also benefit from a less shady manager.
The Barnacle: What was the matter with Hot Female Jobs.com?!? Debbie has seen herself, right? She could rake in millions!
How is 90210 handling the Teddy storyline so far?
M.L. House: I'll always be down on producers for ruining this over the summer, but I can separate that disappointment from what I see on the screen this week. In the wake of such a tragic onslaught of teenage suicides, this storyline is being handled very well, during an important time.
LJ Gibbs: Very well. I let out an audible gasp when he blew up last night and screamed "fagot."
The Barnacle: I'm all for any storyline that leads to Mel Gibson bashing. Bravo!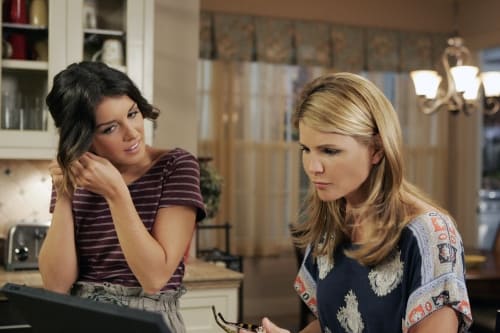 Matt Richenthal is the Editor in Chief of TV Fanatic. Follow him on Twitter and on Google+.