America's Next Top Model Review: "Patrick Demarchelier"

Kate Moon at .
So far in Cycle 15 of America's Next Top Model, the show has upped the ante by bringing A-list guests such as Karolina Kurkova and, this week, Patrick Demarchelier, the famous photographer.
As Tyra continues to emphasize, this cycle is all about the high fashion... which was why it was a bit confusing when the models were led to Wal-Mart for their challenge, with Kacey, Esther, and Kayla winning CoverGirl Wal-Mart cosmetics after pitching makeup to a whole lot of tween girls. Granted, Esther did get a $1,000 shopping spree, but after some of the prizes (like Kacey's gorgeous jewelry from last week), this felt a bit lackluster.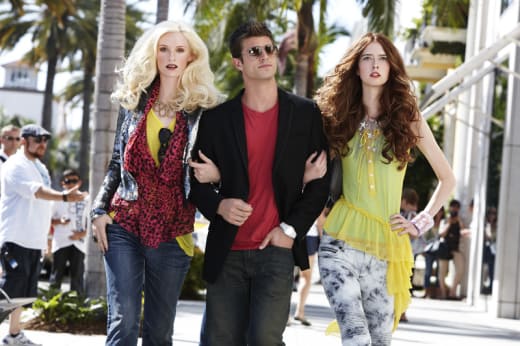 For the actual challenge, the girls were split into groups of three and familiarized themselves with CoverGirl products.  As Nigel Barker greets them at Wal-Mart, ANTM turns into a miniature CoverGirl commercial.
The models are basically salespeople who are targeting a surprisingly young group of girls by being "role models" and appealing to these little teeny-boppers.  Sweet, quirky Ann - who has been killing the competition by getting best photo five times in a row - doesn't do so well in the challenges because she looks distinctly uncomfortable in front of the crowd.  Kacey, Esther and Kayla are clear winners, while Chris overpowers Liz and Chelsey, who aren't able to say much.
For the photoshoot, ANTM glams it up on Rodeo Drive, with gorgeous boutiques as backdrops for their photos.  Jay Manuel explains the importance of the shoot, from the location, the stylist Lori Goldstein, and of course, the presence of Patrick Demarchelier.
Tyra herself comes to the shoot to greet Demarchelier and offer support and advice to the models.  I quite liked Tyra here because she was genuinely giving advice and being professional, as opposed to her often campy self during judging. 
The girls are again split into two for their "group shots in motion."  Jay takes the girls through the process in his "verde" trailer, which is basically a luxury hotel room on wheels, complete with a huge flatscreen and open walls.  Totally gorgeous.  So the girls are paired with one another and walk with male models, a concept that ANTM has been employing quite often this season.
During the shoot, Ann and Chelsey are nervous to be working with Demarchelier, but manage to pull off great work.  Chelsey is lauded for her photo, but is outshone by Ann, who Demarchelier and Andrew Leon Talley rave about, despite her extreme awkwardness during the actual shoot.   Kayla's shoes cause her too much pain for her to pull off a good shot, while her partner Esther subtly pulls off a beautiful photo. 
Chris and Kendal, who are normally underdogs, do well and are praised by the judges.  Jane also does extraordinarily well, with the judges noting her beautiful eyes and graceful movements.  However, Kacey, her partner, looks snotty and unfocused.
And who gets first callout but Ann - six times in a row!  Tyra jokingly apologizes for making reality TV boring. And while Ann has been taking gorgeous photos, I'm not sure I would agree that it's "BEYOND" everything she's ever done as Andre Leon Talley says. Kacey and Kayla are in the bottom two; Karla for complaining about her small shoes and not working through the pain as Tyra expects, and Kacey for being disconnected from the shoot. 
In the end, it's Kacey who gets sent home for her lackluster photo. Did you agree with her ousting?