Bones Review: "The Couple in the Cave"
Steve Marsi at .
On last night's solid episode of Bones, "The Couple in the Cave," the remains of two victims who died in each other's arms are found (you guessed it) in a cave in a National Park.
Booth is more taken aback by the apparent true love of the couple than is Brennan, but something a lot more significant comes between them in the form of a war correspondent.
If we were Katheryn Winnick, we'd get an unlisted number. More on that shortly.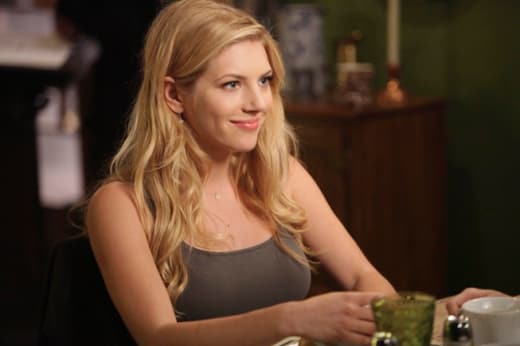 Booth's girlfriend Hannah was granted a surprise transfer to D.C.
The team discovers that Hillary Fuller was a recovering alcoholic and was spending much of her time sponsoring another named Felix, a migrant worker from Guatemala. 
Who wanted them dead? The focus centered first on her boss, who was interested in her, then on a local, recently-paroled murderer, then on Felix's scored wife. Nada.
It turns out that in Felix's drinking days, he bought alcohol for a minor who drove drunk and died. The oh-so-helpful and needy park ranger, her uncle, had his revenge.
The case was fleshed (sorry) out nicely, with our focus diverted away from the real killer until he just kept reappearing too many times. Now, on to the really good stuff ...
Having just finished gushing about her, Booth is thrilled when girlfriend Hannah shows up unannounced, having received a transfer to the D.C. press corps to be with him.
Brennan is not happy, even if she puts on a good act. Well, as good an act as she's capable of. Emily Deschanel is so believably awkward and abrasive, it's wonderful.
Now that it's no longer Booth pursuing Brennan and the roles have completely reversed thanks to Hannah, it will be very interesting to watch the romantic dance unfold.
Brennan actually admitted fantasizing about Booth while they were gone, then went off on Clark (whose early comment about her attraction to Booth was priceless, BTW).
She's rattled, and jealous. And it's awesome. She can laugh it off and talk about how it's all chemical secretions and whatnot, but things are only going to get worse here.
The question is what Bones is building toward. Let's face it, Hannah's hot, and almost annoyingly perfect (Hodgins knows it too). She clearly makes Booth very happy.
If the goal was to make us conflicted because we also love Booth independently of Brennan, Katheryn Winnick's character has done it early on. But can Surley (eh?) last?
Maybe, maybe not. But they'd better show that girls' night out.
True love. Booth's found it with Hannah, he says. Brennan is jealous.
The introduction of this Bones love triangle has set the stage for what should be some great episodes to come, having entertainingly altered the complexion of the show we love.
Other thoughts and observations from last night:
When we first saw the sketch of the killer, before the show even ran with the joke, we exclaimed "George Clooney!" We laughed at every subsequent reference, too.
As we mentioned before, the returning Clark Edison wondering aloud why Booth and Brennan never hooked up was both hysterical and uncomfortable. Great quote.
Angela is still remarkably sanguine about settling down and having a kid with Hodgins. They took a back seat last night, but look for this to change going forward.
Favorite Brennan quote of the night: "So you're implying you showed your appreciation sexually?" Wow, this woman has no regard for tact, and we love her for it.
Brennan, Schmennan. Booth and Sweets have a great romance goin'.
What did you think of last night's Bones? Do you love Hannah, or love to hate her? What were your favorite scenes, and what do you want to see more of? Discuss!
Steve Marsi is the Managing Editor of TV Fanatic. Follow him on Google+ or email him here.