This week's episode of Brothers & Sisters marked an improvement over the last few, although "A Righteous Kiss" still left us with mixed feelings after the emotional hour.
The episode was the last for Emily VanCamp (Rebecca), and her story line was wrapped up well. Her relationship with Justin ended sadly, but at the same time realistically.
After all they've been through, they came to an understanding and parted ways somewhat amicably. It was well done, but for fans of Emily, was bittersweet just the same.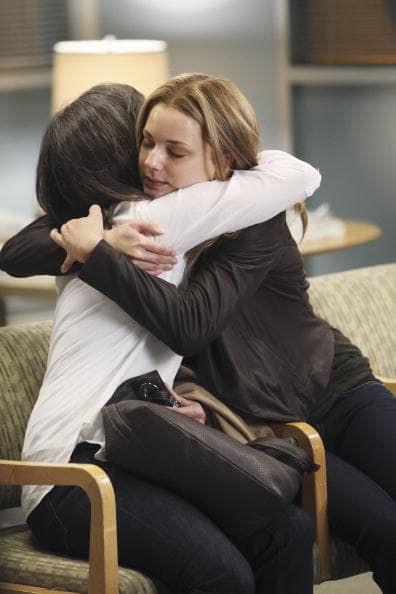 Rebecca hugs Nora and bids farewell to fans in "A Righteous Kiss."
Before delving into the Rebecca situation, let's break down what else happened this week:
Kitty remains cut off from the family, which is both out of character and a waste of Calista Flockhart's talent, to say nothing of the fact that the whole handyman courtship thing is beyond cliched. This season? Not good for Kitty so far.
Sarah will do anything to make sure Cooper gets into the best school. Watching her cave to, then grow fed up by, then eventually tell off a couple of snooty social climbers who held Cooper's fate in their hands was predictable, but fun.
Ron Rifkin was terrific last night. Not only do we love the character of Saul, but there's truly never been anything like this story line. If anything good came out of last season's finale, it was his HIV-positive discovery. We hope B&S runs with it.
Now, on to Rebecca's departure from Brothers & Sisters ...
Rebecca and Nora's scene was nuanced and wonderful. Thanks to Nora putting aside all the feelings she initially had toward Holly, Rebecca knows her mom will be okay.
There are also interesting parallels between them. Nora was submissive for so long and only discovering now what it means to live for herself. Rebecca can start earlier.
As for Holly, her amnesia has practically given us headaches this fall from the persistent eye-rolling. But by having her remember Rebecca now, that took guts at least.
Not just for Rebecca to leave, but for the writers to actually add that layer. It would be easy to leave town if your mom doesn't even know you, right? At least easier?
Of course, it wasn't as if Rebecca was welcomed and begged to stay by Holly, either. She's devoid of feeling. Poor girl. Just so many emotions, swirling and conflicting.
Finally, the endgame for Rebecca and Justin involved a thousand shades of gray, which was refreshing given how many cliched endings TV relationships can often get.
Right after getting married, he left for a year. Even if he was better for it in the end, what does that say about their relationship? Now she must leave too. He gets it.
By letting Rebecca go and pursue herself and her own future, he knows it's the right thing to do, as she afforded him the same opportunity. Even if it doesn't make it easy.
What did you think of the episode? Will you miss Emily VanCamp? Were you happy with how she left at least? How is the whole season so far? Discuss below.
Steve Marsi is the Managing Editor of TV Fanatic. Follow him on Google+ or email him here.