Chuck Review: "Chuck Versus the Coup D'Etat"

Dan Forcella at .
For long-time viewers, "Chuck Versus the Coup D'Etat" was everything you've come to expect from this great show.  Other than the disappearance of Jeff and Lester, we were treated to a full menu of Chuck goodness last night. To wit...
Action
If the episode was light on anything, it was action.  There was that great fight scene in the stairwell at the Generalisimo's place in which Awesome and Ellie got to witness Chuck and Sarah kicking some major butt, but other than that, but that was about it. I don't know if that is necessarily a bad thing, though.  I say Chuck is great because of its triple threat, but if I have to be let down by one aspect, I'm not ready to lose a second of comedy or heart.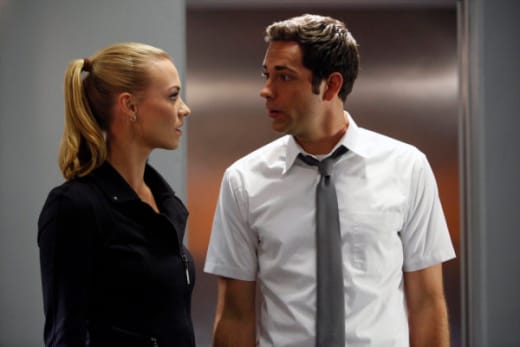 Comedy
What wasn't funny this week?  Morgan was on his game. From voicing-over Chuck and Sarah's awkward ring moment to his cute yet awkward conversation with Alex while Casey was in their presence, Morgan was killing it.  How about that pro/con list he uses to decide whether to pursue Alex?  Reasons to date Alex: She's pretty, she smells good and she might even like Morgan.  Classic.
There were plenty of other comedic moments, but a couple of my favorites were Awesome's infatuation with talking to Ellie's stomach, as if the baby was already out; and Big Mike giving love advice to Morgan.  It's great seeing the big man take such pride in being a father figure to the bearded one, but it's even better when he spews out gems like, "When has anyone ever learned anything from a book?"
Heart
For once, the heartfelt moments didn't involve Chuck and Sarah.  Well, until the very end.  The most interesting centered around Morgan yet again.  He is, indeed, in deep with Casey's daughter.  While he's in the middle of making his pro/con list, Alex comes in and tells him she likes him and goes in for the smooch.  It's nice to see the guy have a chance with a seemingly normal girl.  I mean, Anna Wu was great and all, but she was screwed three ways towards the weekend.
We were also given the heartfelt brother/sister moment between Chuck and Ellie, which is always nice.  I love that Ellie respects his spy skills, but she is really getting in the way of him being the Chuck we know and love.  The guy finally breaks down and tells her that he's looking for their mom, so who knows where things go for them from here.  Now everything is out in the open.  I like it a lot better when there are some nice secrets hanging in the balance.
At episode's end, we finally got some sweet Chuck and Sarah chill time.  As Chuck pretends to be asleep, Sarah, who for the past couple of episodes has struggled with commitment, proclaims "I love you Chuck and nothing's gonna change that.  And if you ask me for real, then my answer would be yes."  The old fake sleep move works out perfectly for Chuckles, as he smiles just before the credits roll.
Moving Forward
There were just a couple of bits and pieces of info on Chuck's mom this week, but that story is always on the horizon.  Now that he's told Ellie about it, there should be no reason not to attempt to find the great Linda Hamilton.
Other thoughts:
If I want singing on Chuck, I want it from Jeffster!, not the Generalisimo.
Which do you want before bed:  Cuddling?  Or 30 minutes of silence?
I loved that the Generalisimo's relationship with his wife related so nicely back to Chuck and Sarah's issue.  Clever plot device there.
Did I go an entire review without talking about Casey?  I must be feeling under the weather.
If you are a fan of CBS's Big Brother, then the title of this episode made you laugh.  Is there any other way of pronouncing it these days other than "Coop Day Tot?"
Dan Forcella is a TV Fanatic Staff Writer. Follow him on Twitter.