Community went to the outlandish well one too many times with "Basic Rocket Science."
A parody of Apollo 13, the episode has been compared to last season's classic paintball installment, "Modern Warfare." But that worked for a few reasons: the impressive action sequences; the incredible jokes and references; the character development (Jeff and Britta actually slept together during it, remember).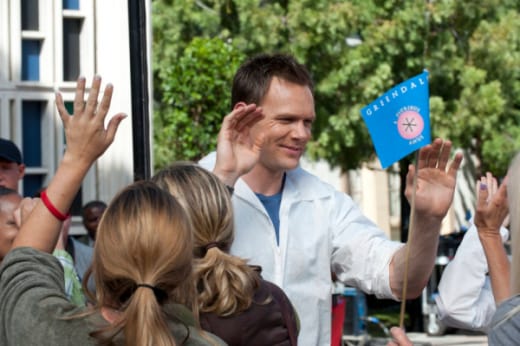 Conversely, this week's attempt at fake space travel relied too much on its broad concept. There weren't many memorable lines, as the show seemingly wanted viewers to enjoy the overall idea of mocking space travel adventures.
And it had its moments in relation to that: the slow-mo walk, the heroic conclusion, the fact that Abed keeps an astronaut suit in his dorm room.
Overall, though, the episode relied on its premise more than its characters, which is a shame considering how enjoyable it is to simply watch Jeff, Annie and company sit around the study table.
Moreover, "Basic Rocket Science" teased us with storylines that actually could have played out over a series of episodes, or at least been given more time as their own episode. Annie applying to transfer? A feud with City College? I'd have loved to have watched a half hour just dedicated to these possibilities, as opposed to having them in the background of such an over-the-top plot.
Community is at its best when it sprinkles in ridiculous developments, quotes and references to a basic story centered around these hilarious individuals. That was anything but the case here.
Of course, it was still funnier than any CBS sitcom. Below, we've posted the best Community quotes from the installment, highlighted by Dean Pelton's map markings:
Abed: Here. Right next to the truck stop with three thumbs.
Pelton: Those aren't thumbs. | permalink
Annie: Can we stop walking in slo-mo now?
Pierce: You guys are walking in slo-mo? | permalink
Troy: Pierce has got space madness or he's just old or something. | permalink
Jeff: Pierce. You're talking to an Atari cartridge. Sit down. | permalink
Troy: There is a time and a place for subtlety, and that time was before Scary Movie. | permalink
Dean Pelton: I know that this isn't a symbol for the crossroads of ideas. I now know it's a butt. | permalink
Matt Richenthal is the Editor in Chief of TV Fanatic. Follow him on Twitter and on Google+.