EXCLUSIVE: Chord Overstreet Brings SexyBack, Speaks on Glee Character, Hair
Gabrielle Compolongo at .
Glee viewers first met Chord Overstreet on the season two premiere, but we were truly introduced to his character of Sam Evans on "Duets."
It's safe to say Sam didn't just win over Quinn, he won over millions of viewers with his bad jokes and acoustic talents. In the following interview, Overstreet talks about joining the cast and even gives us a sneak peek at the song he'd most like to sing on Glee...
What it was like to join such an established cast?
It's fun. Luckily, they were all really cool and they're all super sweet people and they were really nice to me. They could have been really big divas and really rude, but they were really cool and a blast to work with. They made me feel welcome.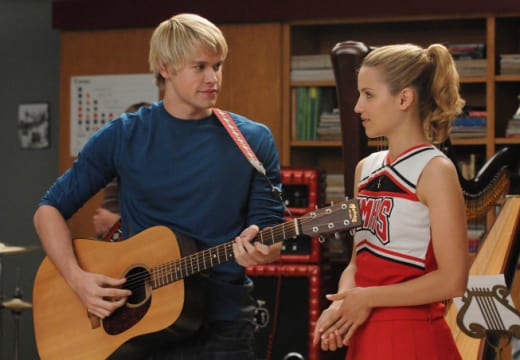 Is your hair really dyed?
It's naturally dirty blonde. So it's highlights. I had it down to my chin in this beginning of this year, and then I had them cut it from eight inches long to two inches long. I wanted to go brown and the lady made it black, so they basically had to bleach it to get the black out. It's really damaged it.
What song would you most like to sing on the show?
I would like to sing John Mayer's "My Stupid Mouth" because I think it's funny and hilarious because it's a fun and cool song. It's always been one of my favorite songs. That, and maybe like "SexyBack." I think it would be fun. Everybody could get a good laugh at me dancing.
** TV Fanatic note: Overstreet actually sampled a few bars of this JT classic for us during the interview. Listen to it HERE.
How many episodes are you booked for?
I'm not booked for a certain amount. After a certain numbers, it goes to series regular. I don't know how much that is. It could be indefinitely, and I could be off the show tomorrow. I don't think that's the case, since I've sent the script. As far as I know, it's open ended. Hopefully, the producers and writers and creators like the stuff I'm doing and hopefully I'm making them happy and I keep working on the show.
With which New Directions member do you most/least want to duet?
I would love to do a duet with Amber Riley because she's so amazing. She's a great vocalist. But I would also not like to do a duet with her because she would blow me out of the water [laughs]. She is awesome, she's got some pipes on her. I would love to do a duet with Lea, also. She's great, super talented girl.
Has singing always been a part of your life?
Yeah, I've been singing since I was little. I've been doing it on and off for about 15. I started it on my own.
How many shower scenes are we going to get with you?
Gosh, I hope about 15 or 20, every episode. That would be fun.