The second offering of the season gave us a look at the dysfunctional life behind the pomp and circumstance of teen beauty pageants.
As "The Royal We" depicted, it's going to be a foot race to see if Lightman goes completely bonkers or finishes his book first. From playing soccer inside the office to making beans and toast at 4 a.m., he really can't accept that he is having trouble getting started on this tome.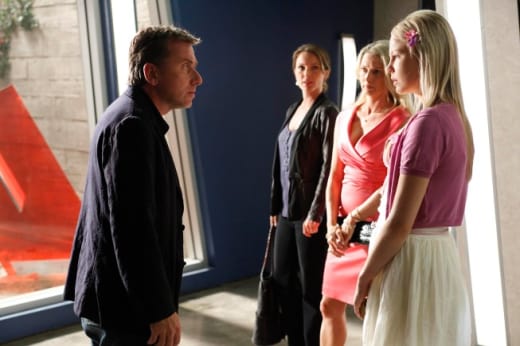 That said, I love the new Cal Lightman. As mentioned last week, the writers have decided to come down to earth a bit more with cases are more personal. The side effect of this is that Lightman has a chance to be more spastic, cynical, pompous and funny (aka "everything we love about him").
I am not sure what is going on with Eli and Lightman. The best I can make out of all of the back and forth is that Eli seems to think Lightman wants him gone so he is trying to find another job, while Lightman seems to want Eli to step out of his comfort zone and grow.
However, the loser in this tug of war is poor Ria, who has developed feelings for Eli, but can't figure out how to share them properly because Eli is constantly angry at Lightman.
Speaking of pain, again I have to tip my hat to the writers for how they handled this week's topic of a teenager who was using pain and self-destruction as her drug of choice. It was handled with the utmost respect and with good clarity on how it could be going on and not be noticed. The only flaw I saw in the episode was after Megan confessed she was a "cutter" to Lightman, there is no way the police or the hospital would have let her back out on her own so quickly.
I will admit: Wallowski is becoming my favorite new character of the show. The banter between her and Lightman is so much better than the any of the banter Reynolds and Lightman.
However, by far my favorite interaction was Lightman and Emily. The latter is showing that she is just as intelligent as her father. She even out-smarted him a bit by coming up with the idea that if she wrote a foreward for his book he would have to actually complete the book to put it in. Good stuff.
Jim G. is a TV Fanatic Staff Writer. Follow him on Twitter.