It took Claire over a year, but she finally learned what we've known to be true for over a year now: Phil is hilarious!
We're not sure how she wasn't sold on this fact as soon as she heard the joke about a two-story house, but at least Claire's initial hesitation to let Phil do his material on "Strangers on a Treadmill" led to an impressive moment for Julie Bowen: she really did laugh with her mouth and not her eyes in that one scene, didn't she?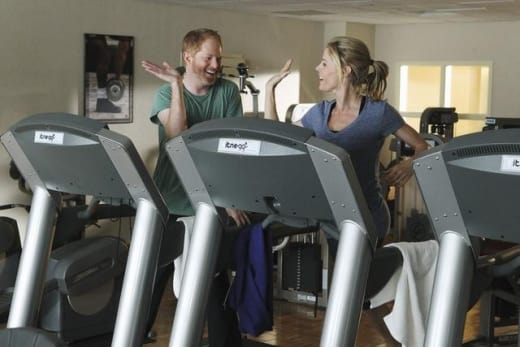 [Photo: ABC]
After all these years together, you'd think Claire would have already realized that other people actually do find her husband funny, but her eventual realization in this episode led to a sweet concluding moment where Phil comforted her about their respective roles in their relationship.
And it was done without a forced, sappy voiceover, which I greatly appreciate.
Among other winning lines and scenes from the episode:
Of course Manny immediately knew the name of everyone at that engagement party. And of course he watches Antiques Roadshow.
The Alex/Haley storyline was the best use of these characters to date. What a classic scene with the two of of them freaking out over Alex's mishandling of the Mackenzie phone call. It's not work if you love it! Hang up and kick the phone over to me!
Where the heck is Dylan?!?
Troga?!? Amazing.
Have we ever been told what Jay does for a living?
I liked how the Mitchell/Cameron plot didn't have a tidy ending. Sure, they are on perfectly good terms now, but the final glimpse we got of the couple was of Cam walking out of the bathroom because Mitchell wanted to shave his shoulders.
The first time Cam's crotch was blurred out? Funny. The 12th time? Even funnier.
Come on, Claire, a two-story house! Don't you get it?!?
Follow this link to browse through other Modern Family quotes from the episode and let us know if we missed your favorite.
Matt Richenthal is the Editor in Chief of TV Fanatic. Follow him on Twitter and on Google+.