Just because you have cancer doesn't give you the right to be a destructive bitch.
Thank you, Marlene! With those words, Cathy's elderly neighbor literally slapped some sense into the star of The Big C, expressing what many viewers have been thinking for awhile.
Cathy clearly got the message, too, as "Divine Intervention" was all about this character's road to redemption. She has a long way to go, considering the way she's been acting since we met her, but this episode proved that the series has hit its funny/emotional stride.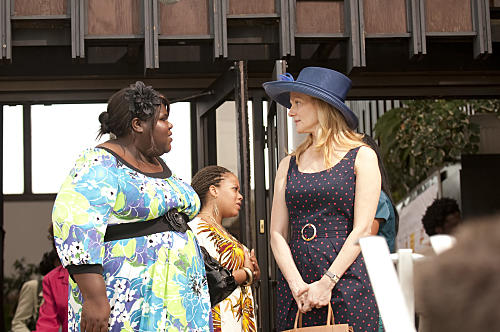 I criticized the show a bit early on for repeating the same storyline each week - Cathy acts impetuously and selfishly, Cathy doesn't tell anyone about her illness, no one really questions her behavior, etc. - but the last two episodes have given us interesting developments across the board.
It was fun watching Cathy in church this week, and also a nice touch to put the focus on Andrea's home life.
Like Paul, I also expected Cathy to react with anger/horror at his sleeping with Tina, preparing a rant for this review about how tiresome it had become for the show to find reasons for her to keep her disease a secret. But she surprised both her husband and yours truly with her retort, saying the three words we've been dying to hear: I have cancer.
Can't wait to see where this goes next week. Other notes from a solid half hour of television:
As we had seen her throughout most of the season, Sean made a good case in that argument with his sister: what woman out there would not choose Little Sean over Cathy's personality?
Can you really tear your labia?!? Nevermind. I don't want to know.
Old nuns and baseball. Old nuns and baseball...
I like your hat.
Amazing stuff from Linney in the church and in that Scrabble scene with Marlene. She's the early Emmy favorite.
Matt Richenthal is the Editor in Chief of TV Fanatic. Follow him on Twitter and on Google+.