The Defenders Review: "Nevada v. Senator Harper"

Sean McKenna at .
I wish we could toss this episode away and declare a mistrial.
It's not that "Nevada v. Senator Harper" had everything going wrong for it. Instead, it was the fact that it felt like nothing new was really brought to the show. It felt stale, cliché and lacking of original Pete and Nick vibrancy.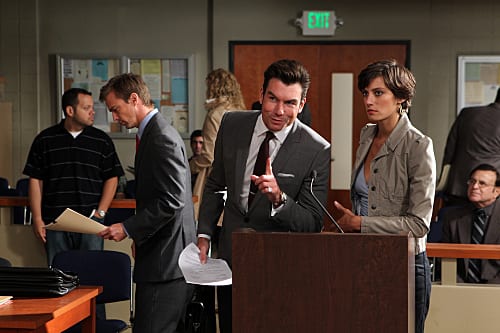 The main case focused on a senator who had an affair with one of his aides. Shocker. I've seen this plotline on countless television shows. What else you got?
Okay, so maybe the Senator kidnapped that staffer, too? Hold on, now he murdered her? Just kidding, it was all a big misunderstanding. She was fine the whole time, just on the outskirts of town. With no phone. Or TV. Or radio. No big deal.
Sure, a senator having a fling with a staff member is very true to life. Think about John Edwards. In fact, Senator Harper had that southern drawl and a comb over to match.
Yet the ridiculous twists and turns didn't make the episode any more exciting. I was left feeling blasé. Even the dialogue between the scorned wife and her cheating husband felt just plain recycled.
I was more interested in the smaller case involving a cabana girl accused of assault and battery. Pete's flirtation with this pretty woman lead him from the courtroom straight into her bed. It was typical Pete, but I was fine with it. Only a fling with Pete could cause a bra to find its way onto the ceiling fan.
The real fascinating dilemma occurred when Pete discovered that this girl was running scams and stealing from rich people. We don't typically get to see the side of lawyers who defend bad guys, so I was curious to see what he would do.
Pete, being the true hero that he is, threatened to turn her in even if he gets disbarred. Pete and Nick seem to throw that "I don't care if I get disbarred" line around a lot.
I wanted to see more of an internal conflict for Pete. Lawyers can't always defend the innocent and that can definitely be an interesting storyline, but it felt resolved so quickly. Pete never seemed to question his decision and looked shocked when he was told that he defends rapists and murderers. Does he? After this choice, can he morally even do so?
However, I did like that Nick's case caused him to reflect on his personal life. He came to realize that his marriage is truly over. He admitted he didn't understand how, why, or when, but that it simply happened. He accepted it and this was great for his character. Plus, he got to go out on a date with a judge.
I even found the purchase of the Chicago Bears ring entertaining. For a moment, Nick and Pete sprang to life doing their chant and chest bump. Moreover, the discussion on who gets to wear the ring and when, was amusing. I want to see more moments like this one.
Unfortunately the fun was short lived and I felt like the true Nick and Pete were mostly absent from this episode. I really like these two characters and enjoy watching them. How about some more clever tricks and antics, guys?
Sean McKenna was a TV Fanatic Staff Writer. He retired in May of 2017. Follow him on Twitter.