I don't know who was more infatuated with Timothy Olyphant during "The Sting," Meredith or me. 
I guess I need to catch myself up on Deadwood, because whether it was The Girl Next Door, Justified, or his appearance on this week's The Office, Olyphant has just killed it.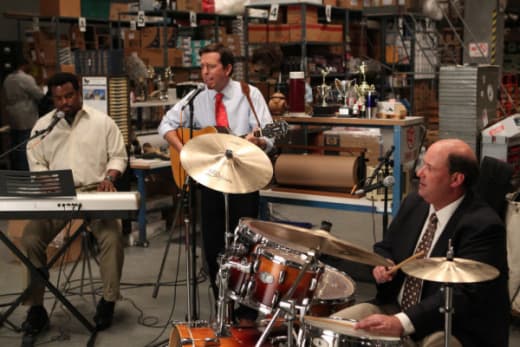 It wasn't just Meredith and myself, of course. Everyone at Dunder Mifflin, except Jim, was pretty much in love with Olyphant's Danny Cordray.  They all knew he's a fantastic salesman and thought he was rather attractive. What was there not to love?
As for the episode as a whole, I found it a big step up from last week. While Michael's stinger to figure out Danny's strategies took up most of the episode, Andy's jam session with Darryl and Kevin was pleasant enough to make a solid B Story.
But the main plot had so many things going for it.  There was Michael being Michael.  Not unlike Manny being Manny, it means there was plenty of craziness.  Along with being a complete nut, Michael also got to dust off his salesman skills by stealing Danny away from Osprey Paper by episode's end.
Dwight and Jim were once again back to their old tactics, and the chemistry from back in the day has not been lost.  Oh, it was gone for a while there, but it's back now, and it's one of the main reasons I feel this season has been much better thus far.
And, finally, the episode found a way to incorporate many of the auxiliary characters nicely.  With Meredith doing her thing with Danny, and then Oscar and Ryan cleaning up the mess, that scene in the fake office turned into an instant classic.
Would anyone be upset if Olyphant stuck around for awhile? Yeah. Me neither. As always, we've listed the week's best Office quotes below:
Dwight: Drop the act, Cordray. Okay, we all know that you probably thought that Pam was too mehh. Or thin without being toned, but I want to tell you something. She is one of the plain, hearty women of Scranton that make this city great. And so what if she doesn't wear make-up. We like her better that way. | permalink
Creed: Well I really, really, really liked it.
Andy: Well that really bums me out.
Creed: You're welcome. | permalink
Dwight: People can't keep their true natures hidden for long and this guy is smoldering like a tire fire.
Michael: Testify. | permalink
Jim: Meredith Van Helsing?
Dwight: Van Helsing was a respected professor before he was a vampire killer.
Jim: Okay, but what is he more famous for? | permalink
Michael: Why don't you go outside take a shot of insulin and have a nap?
Stanley: Why do you always assume I have Diabetes?
Michael: I don't know. Your frame. Your build. Why don't you have a glass of apple juice and tell me you're not a Diabetic? | permalink
Dwight: There he is.
Michael: Oh no, that's a male model. | permalink
Dan Forcella is a TV Fanatic Staff Writer. Follow him on Twitter.