So Alan pointed out a very important fact on this week's Two and a Half Men that's been going on subtly in the background: the student has become the master.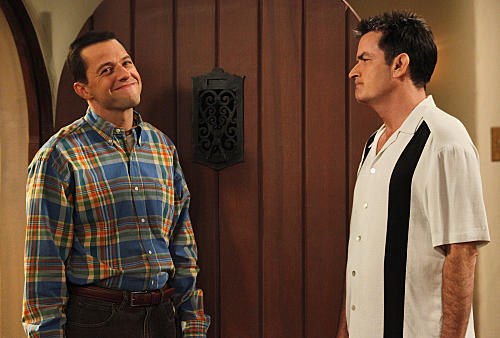 We haven't really noticed, but Charlie really has been struggling in the non-paid ladies front since he broke up with Chelsea.  Kudos to Two and a Half Men, a show that normally just loves to lay its jokes on so thick, for actually subtly developing a character.
So has part of why Charlie has been so eager to rid of Alan is out of jealousy?  Hah, who are we kidding.  This still is the annoying Alan and his acidophilus milk we're talking about. The annoying Alan that is somehow juggling two hot women.  Either way, it's just nice to see a new dimension and growth to Charlie and no one that involves last season's whining.
One thing we also loved about "A Pudding-Filled Cactus" was the use of some of our favorite supporting characters.  It was great to see the return of Evelyn and her scenes with Charlie and his hilarious exchange over some bourbon with Berta.
We're loved the predictable ending to the episode and can't wait to see what ridiculousness ensues when everyone tries to move into Charlie's next week.  Our favorite Two and a Half Men quotes from the episode are after the jump.
Berta: End of era, huh charlie?
Charlie: Yep. From now on, no brother, no nephew. Just the sounds of the ocean punctuated by the soft voices of prostitutes lying about the enormity of my sexual organ.
Berta: You do know how to paint a picture
Charlie: What can I say, i have the heart of a poet.
Berta: Unfortunately the rest of you is a drunken scumbag | permalink
Alan: The man who was asked to leave Bangkok for moral turpitude finds this distasteful?
Charlie: That was a misunderstanding. I had no idea it was an endangered species.
Alan: Nothing I'm doing requires a ten day quarantine and a series of rabies shots. | permalink
Evelyn: Desperate?
Charlie: Like a gold fish in the leaky bag. | permalink
Charlie: I think she punched my right nut into my ribcage.
Evelyn: Poor baby. Want me to take a look?
Charlie: No thanks.
Evelyn: I have seen them before. I'd imagine they're hanging a lot lower now.
Charlie: Right back at you mom.
Evelyn: Touche, darling. | permalink
Eric Hochberger is the programmer of TV Fanatic, so please forgive his mediocre writing. His programming is far better. Follow him on Twitter and/or email him. Just don't request threaded comments. They're coming.