I thought after four seasons that I was done being surprised. But this week's episode of Venture Brothers proved me wrong.
The film noir style of "Everybody Comes to Hank's" came off very well. Hank and "Al" running around as gumshoes working on a case was a lot of fun. Between the dialogue Hank was using and the effect of everything going black and white when he put on his detective hat, it all came together in an interesting fashion.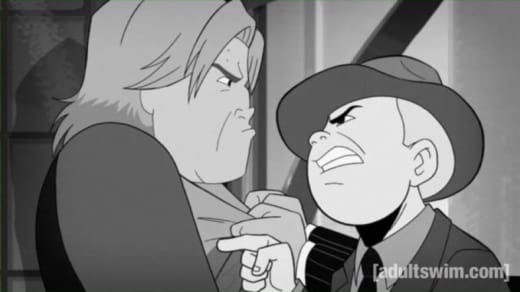 Who else enjoyed that we finally got to see Nikki Fictel (previously known as Nikki Nighttown)? She came in as "the dame who the private eye falls for."
Of course, it had to have a VB twist where he could only speak to her if he was wearing the detective's hat. The show worked in a ton of plot devices for her. She is really Dermott's mother and she has slept with two of the three Venture family members. I do hope they take advantage of those well designed plot hooks.
Adult Swim started the episode with a note that this was a two-parter. I can only gather that the super suave Rusty Venture that stepped out of the portal at the end has something to do with how we get to part two. I guess we will all find out next week.
With only four episodes left, it feels like we are fast approaching the end of season four. If the rest of the episodes are as well put together as this one, I think we will have ended on a good note.
Jim G. is a TV Fanatic Staff Writer. Follow him on Twitter.