America's Next Top Model Review: Sorry, Wanda Sykes...

Kate Moon at .
In the penultimate episode of the season, the girls were treated to the obligatory go-see challenge, which always leads to late contestants and angry agencies.  You'd think after 14 cycles, the ladies would know not to be on time, but that certainly wasn't the case this time around.
Since America's Next Top Model is more "serious" in Cycle 15, Tyra's also been a lot more involved with the girls and the photoshoots. And I'm happy to see that she's toned down the theatrics and general obnoxiousness. Tyra actually dispensed genuine, helpful advice this week, a refreshing change from her typical campiness.
The Challenge:
The go-see challenge is one of the most drama filled of the season, with girls trying to see as many designers as possible, but getting lost (and late) in the process. Although Cycle 15 has been less melodramatic (it's because it's serious, y'all!) than previous cycles, the girls also did significantly worse than usual. 
They only had four go sees (including Versace!) but most only managed to see one AND Kayla and Ann were late AND all the girls got lost!
Chelsey, who's established herself as the most knowledgeable of the girls, won a Versace jacket, and as Kayla said, it "looks real."  No kidding.
The Photoshoot:
The shoot was right on picturesque Lake Como with a Pygmalion theme.  It was nice to see that ANTM's classed it up with the photoshoots again; definitely a welcome change from shoots like the memorable "meat dress" one of previous seasons. And, of course, the gorgeous male model was included in the package. 
The girls as statues were pretty cool I must say, they really do looked like marble Greek statues come to life.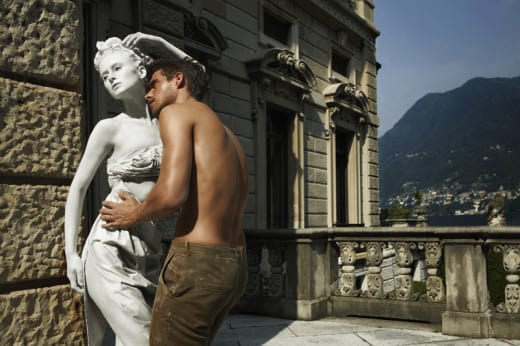 The Judging:
The judges were universally annoyed by the girls only making it to one go-see and not even booking that one go-see.  All the girls were lectured on the unprofessionalism of not making to their appointments. 
I'm growing fonder of Kayla, and I agreed with her getting best photo of the week. Jane breaking down during judging, and in front of Nigel during the shoot, probably saved her, because the judges love bursts of emotion. Since I find Chris' personality to be pretty obnoxious anyway - while she also had the weakest photo - I think it was the natural choice for her to go home.
Other Notes:
The male model looked like he's clutching Chelsey's breasts in the picture.
Andre Leon Talley referred Chris as "Wanda Sykes."  Was that meant to be an insult?
And Ann!  She's honestly annoying me more and more.  I wish she wouldn't look so crazy and wobbly lipped when she talks. She always looks like someone's going to chop her down.  And I'm backlashing from all the praises from the judges and designers, it's like she can do no wrong, they don't even call her out on the white paint in her hair or her general straggly appearance during judging!  Other girls have certainly been called out for much less.  Very frustrating. 
Any bets on who will win next week? I'm crossing my fingers for Kayla or Jane. Can't wait to find out!