America's Next Top Model Review: Off to Venice!

Kate Moon at .
This week's marked the show's third trip to Italy (Cycle 2 went to Milan; Cycle 10 went to Rome), as the remaining six girls went to Venice, leaving behind their house in Venice Beach, California (wonder if that was on purpose?).
The contestant get a chance to take in some sights and eat lunch at quaint café, while lodging in a gorgeous boutique hotel with a stunning view of the canals, before they are sent to their next photo shoot.
Jay Manuel arrives in a gondola to explain the layout of their shoot, with the picturesque Rialto Bridge as their backdrop.  The girls are to participate in a period editorial with a Casanova theme, vying for Casanova's attention while lounging on a gondola.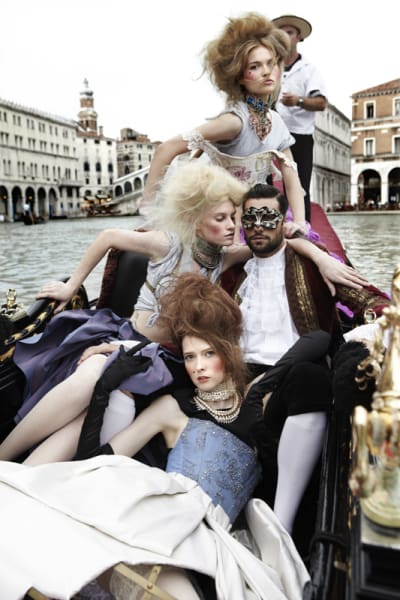 This cycle definitely has been utilizing male models for most of its shoots, and Mario D'Amico is totally Italian and gorgeous.  The girls' costumes are a slightly modern, gothic take on the classic  period pieces, with more risqué gowns and stylized hair and makeup.  It's a group shoot; with the ladies competing for "Casanova's" attention.
Although Jane, Chelsey, and Kayla excel during their shoots, Ann grows steadily more awkward and Liz cannot stop complaining about her surroundings. 
After the shoot wraps, Jay hits everyone with another surprise: the models will be moving the very next day.  That is a surprise because
ANTM
rarely moves the models to different cities; the show really emphasizing the connection to Vogue Italia.
However, the girls are less than thrilled with their new house in Milan, which is less sumptuous than usual and much smaller.  Tyra uses the occasion teach a lesson about the less glamorous side of modeling, which includes "model apartments."  On the flip side, the girls will being going to the House of Missoni, although only Chelsey seems to recognize the famous designer.
The girls have the privilege of modeling Missoni's winter collection and also meet Margherita Missoni, the heir to the Missoni empire, a beautiful model and the guest judge.  The girls wear their Missoni winter collection to judging, and all react poorly to the heat, having to sit for the majority of judging.
The photos turn out beautiful; hazy and dreamy.  And despite the girls struggling during the shoot, most of them are lauded for their pictures.  Kayla gets first call-out for best picture, followed by Jane and Chelsey.  It's refreshing that Ann is finally recognized for her slight awkwardness, since it's increasingly becoming an issue in the competition.  But it is shocking that Liz is sent home in the end, because I think that she's been taking beautiful pictures, despite her endless complaints.  I do think that Chris' picture was infinitely weaker this week. 
Tune in for the Milan photoshoots of the remaining five girls next week on America's Next Top Model!