Following a sub-par episode, Castle attempted to rebound with "Close Encounters of the Murderous Kind." Did it succeed? Not exactly.
The show got back to what it does best: unrealistic cases and witty banter. However, this case was almost too far-fetched. Much like last week, the installment jumped around a lot, from an alien abduction to a Chinese spy in the last few minutes. The writing was great, but the mystery wasn't especially interesting.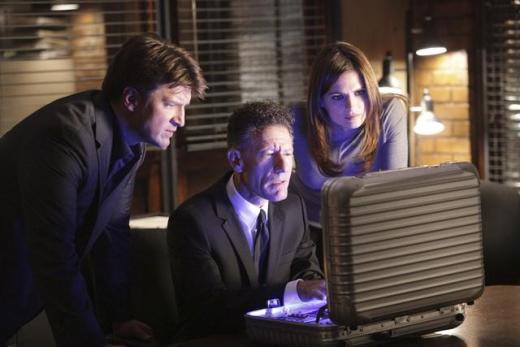 [Photo: ABC]
Still, it's worth mentioning that Nathan Fillion is such an amazing actor. There is a reason why this man has such a cult following. The man is genius with his facial expressions, and I, for one, could watch a whole hour of him doing just that.
The big guest star of this episode was Lyle Lovett, who seemed like he would be a perfect actor for this case. He's sorta creepy looking, fitting right into an alien storyline. His character was completely underused, though. Any no-name actor could have played this role, as Lovett deserved a better part.
Having just a small amount of screen time for Lanie this week made me wish that we would see her more. Here's hoping for some increased interaction between her and the detectives.
Once again, no Gina or mystery surgeon. As I have said before, let's pray the writers have realized the problems with this arc and have decided to let it just disappear.
On the Castle/Beckett front, how could you not love the longing looks in the car, as well as the asking where each other was when being interrogated? I am a sucker for these two and can't wait for some forward movement.
Overall, an entertaining hour. But still not as solid as Castle is capable of. What did you think? Was the storyline to far-fetched, even for Castle?