Castle is known for its complex and twisted murder mysteries, but "Murder Most Fowl" had more turns than needed.
The case changed seemingly every other minute, from a bird watcher in a tree, to a child kidnapping, to Wall Streeters looking to get ahead. Although I am usually a fan of the twists that leave me guessing on the show, this case just did not work.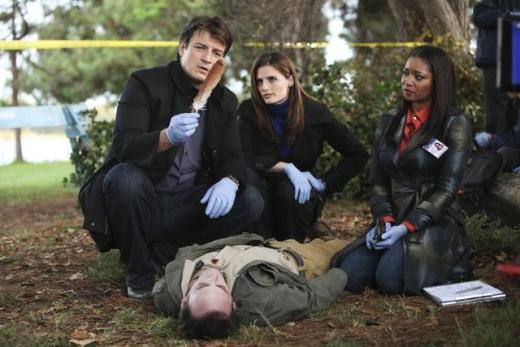 [Photo: ABC]
Castle excels at having mysteries that rival those of the main author's books. They are eccentric and outrageous - and usually totally unrealistic. This is part of what makes the series so good. That said, though, the case of Lightbulb Len and the child kidnapping did not mesh well with the show's dynamic.
Points to the writers for making an attempt at realism, but they should stick with their typically over-the-top, fun-filled murders. (Case in point: check out the preview
for next week's episode
. Looks much more fun.)
Clearly, I am not the biggest fan of Gina and desperately want some action on the Castle/Beckett front. And though I thoroughly enjoyed another Gina-less episode, I have started to notice a trend:
Another installment came and went without the mention of Gina or Beckett's new surgeon boyfriend. How are we supposed to believe that our favorite detectives are in these serious relationships about which we know nothing? The writers either need to explore this side of the show more, or drop it entirely and just focus on the tension between Castle and Beckett.
Am I being too harsh on the episode, TV Fanatic? What did you think?