Chuck Versus the Leftovers: Mama B Good...

Dan Forcella at .
For an episode so rich with long-running storylines, including the return of from Timothy Dalton, "Chuck Versus the Leftovers" didn't impress me as much as it should have.  It felt like just another stepping stone en route to a great episode.
If I were to compare it to last week's installment, which was much more of a stand-alone episode, I'd take Sarah and the crew fighting through Southeast Asia any day of the week.  That is not to say that I didn't enjoy the the most recent hour, and that Dalton didn't continue to impress as Alexei Volkoff.
Which brings me to the first of the three aspects that make up the Chuck Triple Threat.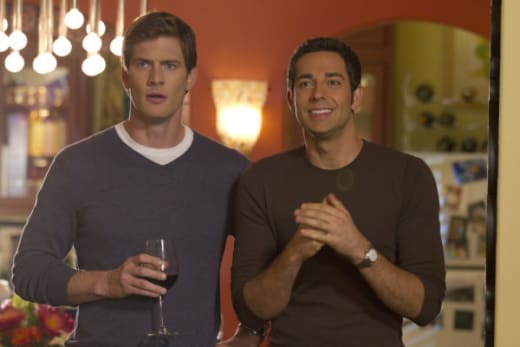 Comedy
Dalton is so fantastic at switching from a ruthless killer to a sympathetic sweetheart.  Not only does he get me to kind of care about what will happen to Volkoff, but he also cracks me up in the process.  I mean, going from wanting to shoot Chuck in the face, to kissing him on the cheek?  Priceless.  And the charades?  I was losing it.
There were a couple of great physical gags tonight, as well.  I could watch Chuck and Morgan at strip kick class for an entire episode.  Unfortunately, there were other things to get to, like Morgan Kevin McCallister-ing himself, as he spilled a bunch of tacks on the floor and proceeded to jump on them.
Action
Not that much all-out action in this one, as the only big fight scene came and went when the three assassins attacked Chuck and Sarah.  It's always great to see Sarah take on multiple attackers at once, but I was more impressed that Chuck had already implemented the stripper pole kick into his fighting arsenal.
Heart
Oh, Mama Bartowski, how you torture us so.  It has almost become evident, though, that she truly is good.  It's not only that she's deep undercover anymore, but that Volkoff is truly in love with her that is making things difficult.  She can't just leave him and his evil ways, or this guy will go on a killing spree, finding all of the Bartowskis.
The fact that Mama B sticks up for her family, telling Volkoff that she will end him if he hurts them or their friends, was more than enough for me.  "I'm sorry. I hope someday you'll trust me," she said to Chuck.  And, like young Charles, I already do.  She's going away with this psychotic man that's in love with her just to protect her children. What else needs to be said?
Moving Forward
I know it may have seemed obvious to some, but I was the only one who answered our Round Table question "If fear and cat images didn't work, what will bring back the Intersect?" with "Has to be that machine under the seat in Ellie's brand new car!"
Is anyone surprised that Chuck now has re-downloaded Intersect 2.0?  It was a nice distraction for a while, but once they made the move to make Chuck a legit spy with kung fu, they weren't going to turn their back on that.  They now have a new guy to do nerdy stuff while trying to spy... his name is Morgan.
So, as the season progresses, what will come of Volkoff and Frost?  Will they retire into the background like Sarah seemed to think?  Or will the two return to wreak more havoc on our friends?  If they don't come back for a while, I'm very curious about next obstacle. Any guesses out there?
Dan Forcella is a TV Fanatic Staff Writer. Follow him on Twitter.